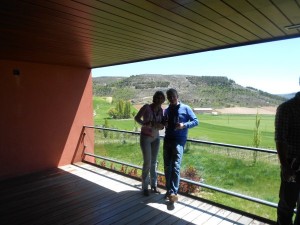 Saturday February 27. To Bodegas Comenge & Peñafiel.
On Saturday February we go to Bodegas Comenge and Peñafiel.
This is a winery that we visited not long ago. At this time we noticed how much they care about wine tourism, They do it  as few wineries do in the whole Spain.
This winery is located in Curiel de Duero, just  3 miles from Peñafiel.
We could spend all day at the winery and this village, with a spectacular castle, but we pretend to improve the tour, visiting, not only one of the most attractive wineries of Ribera de Duero, but one of the most iconic towns of the area, Peñafiel with the most amazing castle in which the Ribera del Duero Museum of wine is located.
During all the wekends of February the feast of "Jornadas de Lechazo" are hold. Even if you do not come to the Winebus you have available lamb in different places in Peñafiel at 33 euros. For those who come with the Winebus you can get it within the price of the Winebus.
When you have lamb in Spain you know what is the time when you start but you do not know when you finish. One thing our clients do not need to do is to be aware of time. The only important thing is that we are enjoying activities until sunset. We go after lunch to visit the castle, and/or the Wine museum and/or La Plaza del Coso. Many things to do. That day sunset is at 19,01. At that time our intention is to have a toast with a glass of wine in hand from the hill of the Castle of Peñafiel with an unforgettable landscape.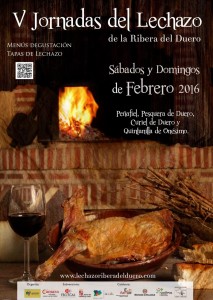 Program of the day:
10,30 h Depart from Madrid (Hotel Claridge Cafetería, Plaza del Conde de Casal)
13 h Visit Bodegas Comenge. Tasting pof 2 of their wines
14,15 h End of the visit to the Winery.
14-30h Jornadas de lechazo in Peñafiel
16 h-18,30h We go to the castle, Museum of Wine of Peñafiel, Plaza del Coso.
18,30 h Toast of wine expecting the sunset
19,03 h Sunset
19,10 h Depart to Madrid.
21,10 h Arrival to Madrid, (Cafetería de Hotel Claridge, Plaza del Conde de Casal)