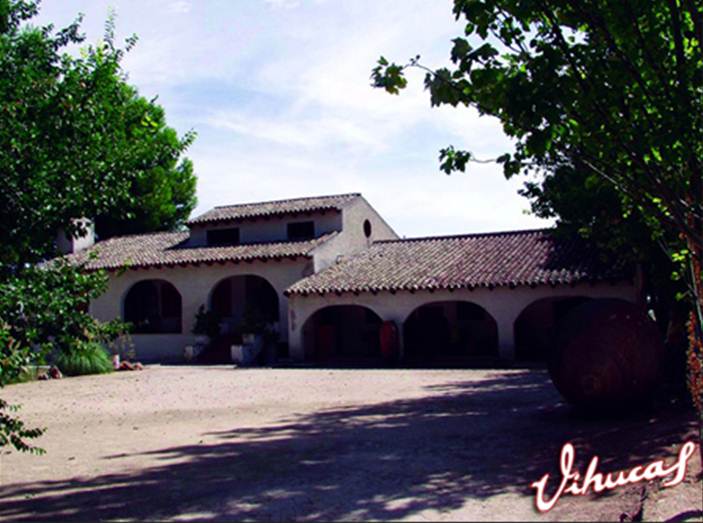 We do not stop at the Winebus. On this occasion we are going to a winery 70 miles from Madrid on the Andaluçia Road. This winery ant its owner are quite an example to follow when communicating through social media.
That is what they say about themselves.
"Since the 80 ies of last century we are making great wines, innovating in growing grapes, in winemaking, on how to market our products…
Vihucas is a family winery located in Villacañas (Toledo), in the heart of La Mancha. They maintain the tradition of three generations of winemakers, which unites the most important technological innovations, even in  the process to produce high quality wines.
All production comes from 26 hectares of vineyards, including old vines of Cencibel (Tempranillo), Merlot, Graciano, Malvar and Chardonnay. Currently they have a very meticulous production, limited to 100.000 bottles, sold under the Vihucas brand.
After the tour and tasting 3 wines we will eat in a restaurant of Villacañas in wich the price will not exceed 20 euros per person. (not included in the tour price and optional).
Then we will do a guided tour to most emblematic places in Villacañas there it is:
Visit to the Etnographic museum of El Silo
Visit to the Museum of Tía Sandalia
Visit to the Wetlands (birds watching, flamencos included)
In each trip of the winebus we have tried to combine culture, gastronomy and wine. When we visit a small town we find on the locals such a commitment and passion when showing us the place that this makes the visit an amazing experience. And I am sure that this will happen again in Villacañas.
A visit to the Wetlands is quite an unusual kind of visit bit I am sure we will be positively surprised. This already happened when visiting Hoces del Duraton or the Hontanares Wiewpoint in Riaza. Such a combination of activities is what is making people hugging each other even if they know each other since a few hours before.
A hug to everybody.
This is the program
10,40 h Departure from Madrid (Plaza del Conde de Casal)
12 h Visit to Bodegas Vihucas in Villacañas and tasting of 3 of their wines.
14 h End of the visit
14.15 h Having lunch un a restuarant in Villacañas (No more than 20 euros) (not included in the price of the tour)
16 h Visit to the Etnographic museum of El Silo, to the Museum of Tía Sandalia, to the Wetlands (birds watching, flamencos included)
18,20 h End of the guided visit and departure to Madrid.
19,40 h Arrival to Madrid. (Plaza del Conde de Casal, in front of Hotel Claridge)
This trip in Spanish: El Winebus en Bodegas Vihucas y Villacañas el sábado 16 de marzo