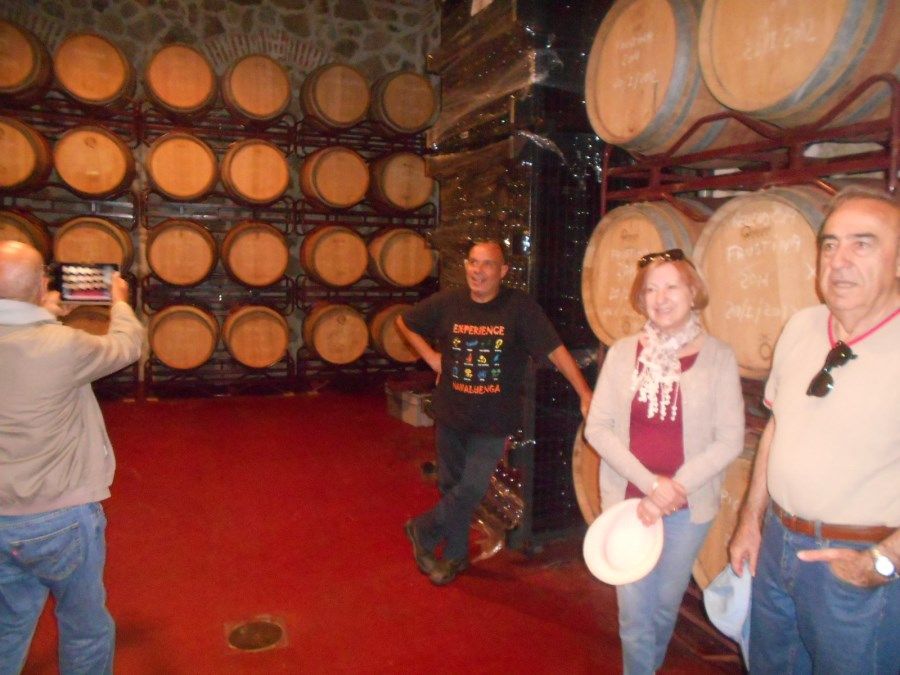 We are going to make a wine tour to Bodegas Alto Garnacha and pick mushrooms to Navaluenga and visit "El hotelito" (Ávila) on Saturday November 16
54 euros, dinner not included. (15 euros aditional) Start 9,15h (Plaza del Conde de Casal, delante del Hotel Claridge)  To pay, you can do it with a transfer with a previous email to igsegma@gmail.com, or calling to 630 099 630. There are discounts for groups (4 persons or more) Call to 630 099 630
We have been a short time ago at this winery. The trip was wonderful. It worked out for several reasons: the human quality of the people that came, and because of Rafael, the manager of the winery. If you come on the tour you will agree with me that he is very special and nice. He is a great communicator. A man who speaks very close and clear. We had fun when we went to make the harvest with him, before moving on to visit his winery and taste his wines.
They had prepared a lunch at the winery. Some typical potatoes of the area that tasted glorious, and paired of course, with the wines form the cellar. We had a very good time.
But this was just the beginning. We went afterwards to El "Hotelito"  a charming country hotel managed by a very nice couple. At this hotel, the owners, Candido and Christina, put all they can to serve their customers and offer them very amusing activities.
The tour we are going to do this time we are going to try to improve this experience considering that we are not in vintage.
We leave Madrid and go to "El Hotelito", the country hotel we were talking about. And from there we go with an expert in collecting mushrooms during 2 and a half hours on the nearest forest.
I do not know if you like fall, but if you come us on this Saturday you may decide not to stay at home any other saturday of the season no matter it rains or snow. We have some woods that are extremely beautiful with the fall of the leaf. To have fun in Fall you have to go for it.
Then we will go to the Bodegas Garnacha Alto Alberche to have a guided visit and lunch paired with the wines of the winery. There we will meet Rafael Mancebo, the manager.
After lunch we will go back to Madrid and we may do a non scheduled stop on the way if it is not to late.
Will you join us?
This is the program:
9,15 h We get out from Madrid (Cafetería, Hotel Claridge) (Plaza del Conde de Casal)
11 h We arrive to El Hotelito. We go to look for mushrooms in the forest.
13,30h We visit the winery, we taste 3 of theirwines. We have lunch paired with their wines. (15 euros aditional price)
16 h End of the lunch.
16,30 h We go to el Pantano de Burguillo and el Valle de Iruelas.
18 h Sunset in the lake. We leave to Madrid.
19,30h We arrive to Madrid, Plaza del Conde de Casal.
54 euros, dinner not included. (15 euros aditional) Start 9,15h (Plaza del Conde de Casal, Cafeteria of Hotel Claridge)  To pay, you can do it with a transfer with a previous email to igsegma@gmail.com, or calling to 630 099 630. There are discounts for groups (4 persons or more) Call to 630 099 630