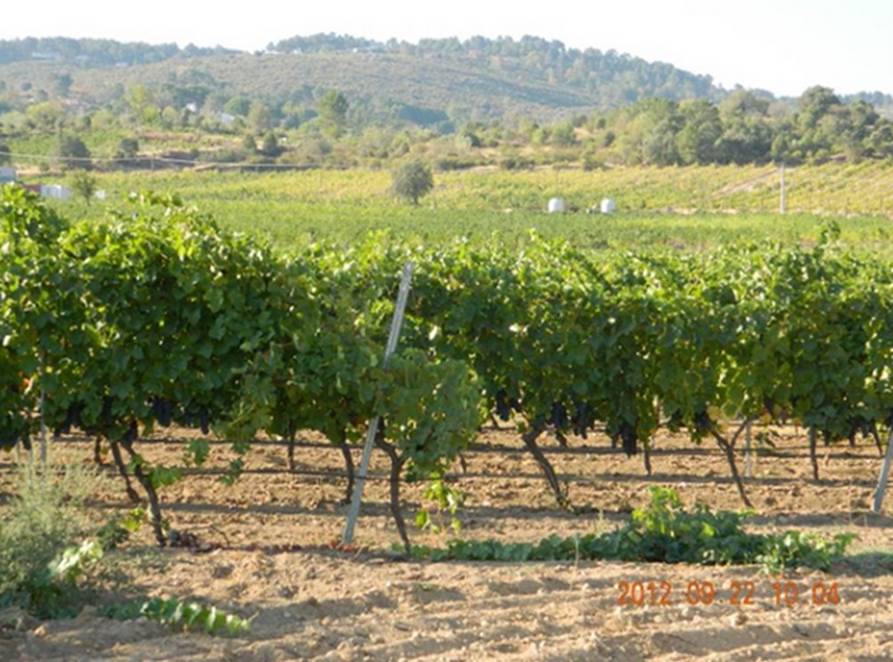 We make a Wine Tour to Bodegas Fuentegalana and El Castañar de El Tiemblo
Price of the tour 54 €. (Extra cost for food 15 €) To pay, you can do it with a transfer with a previous email to igsegma@gmail.com, or calling to 630 099 630. There are discounts for groups (4 persons or more) Call to 630 099 630
This winery is located in Navahondilla village. It is very young winery. From 2010. In that time it has managed to gain a foothold in the Spanish wine scene. There is no crisis when you do things right. Their wines are: Toros de Guisando Rosé 2012, Toros de Guisando Coupage 2009 (Merlot, Syrah and Tempranillo), Toros de Guisando Syrah 2009 and Toros de Syrah 2009. They were introduced by Cristina, the winemaker, who gave us a thousand details about their wines and processing methods. I approached Juan Ramon, his father and owner of the winery and I had a very nice speech with him. Time enough to convince myself that he, his project and his wines are first class.
We had the taste in an enotheque from a friend in Madrid. Now it  comes to taste them where they were created, aside from the vineyard and visiting their facilities. In this situation wines are at their best.
The attractive is not only to visit the winery and tasting its wines. It begins much earlier, because of the landscape that the winery is located and the road to go when coming from Madrid. For those who have not already been in that area only to tell them that these landsacpes by themselves are worth to go. In one single word. "Amazing". We are talking about San Martín de Valdeiglesias area
We will taste 3 of their wines.
Then we will have lunch on the best restaurant of El Tiemblo. In one of these restaurants where nobody ends lunch and is still hungry. We are talking about a country restaurant, very different from you can find on the big town. There are two menus. One of 15 euros and another of 20 euros. It is you to decide which you are going to take.
El Castañar. Es castñar has been voted the first option by the readers of the Hola magazine as the best forest to be visited in autumn.
And from there we are going to visit El Castañar de El Tiemblo. El Castañar has been voted the first option by the readers of the Hola magazine as the best forest to be visited in autumn.
La pregunta a hacerse no es si hará frío o si lloverá. la pregunta a hacerse es qué va a hacer uno el sábado 6 de diciembre haga el tiempo que haga. Y nuestra apuesta está clara. Nos encanta irnos de bodegas, comer en lugares majos y visitar bonitos bosques en otoño.
The question to be answered is not whether it will be cold or rain. The question is what you are going to do on saturday 6 no matter the weather. And our commitment is clear. We love to go to wineries, having liunch in special places and visiting the nocest foresys in autumn.
Will you come with us?
This is the Program::
9,45 h Departure from Madrid (Cafetería del Hotel Claridge, Plaza del Conde de Casal)
11 h Visit to Bodegas Fuentegalana and tasting 3 wines.
13  h End of the visit to the winery.
13,30 h Having lunch in El Tiemblo (15 euros, not included in the tour price)
15h Visit to El Castañar
17 h Depart to Madrid.
18,30 h Arrival to Madrid (Plaza del Conde de Casal)
Price of the tour 54 €. (Extra cost for food 15 €) To pay, you can do it with a transfer with a previous email to igsegma@gmail.com, or calling to 630 099 630. There are discounts for groups (4 persons or more) Call to 630 099 630