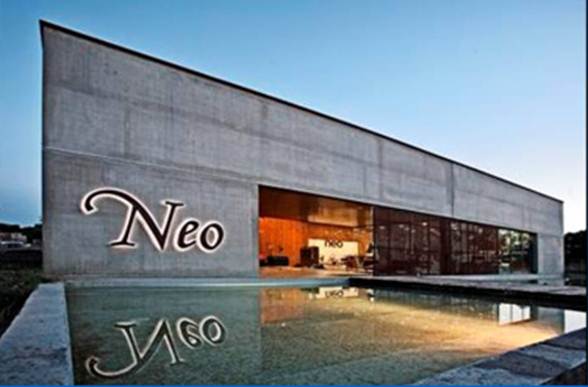 Price of the trip (59 euros. (Dinner not included 15 euros optional) (Depart 16 h)(Cafetería Hotel Claridge, Plaza del Conde de Casal)
 To pay,
 you can do it with a transfer with a previous email
 to 
igsegma@gmail.com
, 
or calling to 630 099 630. There are discounts for groups and members of the Winebus Club. (Booking with 25 euros you will pay tthe rest on the day of the event)

We are planning for Saturday July 5 an offer very attractive. On the one hand we are going to visit Bodegas Neo. Bodegas Neo might be  one of the most original projects of the whole Ribera de Duero. Their promoters, besides making wonderful wines, they have a very nice story to tell.
They are, among other things the promoters of the music event Sonorama, one of the most important music events of the year in Spain.
Why do they participate in that?
Just because before being wine makers they were musicians.
But there are much more details that show  that in Bodegas Neo they are making their own way. There are stories that will leave you stunned. These people, having been born in one of the wine capitals of the world (Aranda de Duero) were not sons of wine makers. They learned about this business working for other wineries and decided to become entrepreneurs with the little savings available they had and the money they could bet from banks.
There is a professional record studio in Bodegas Neo. This is an unique case in the whole world of wine. This studio was designed by Philip Newell, a high executive of Virgin Records and maybe the most recognized personality on studios design in the world. And what did they do to get this guy involved?. They just went to England to meet him with a bottle of wine in his hands and they convinced him. Was it easy? These guys make things that look difficult become easy. So they are these men.
These and many more stories will take place  during the visit to end drinking the wines of the winery. Fantastic wines, by the way, with a very nice design. They have their own design agency. They  ellaborate specific brands for their most important importers. Working this way  their clients are even partners.  But lets stop. Come and know much more secrets of Bodegas neo.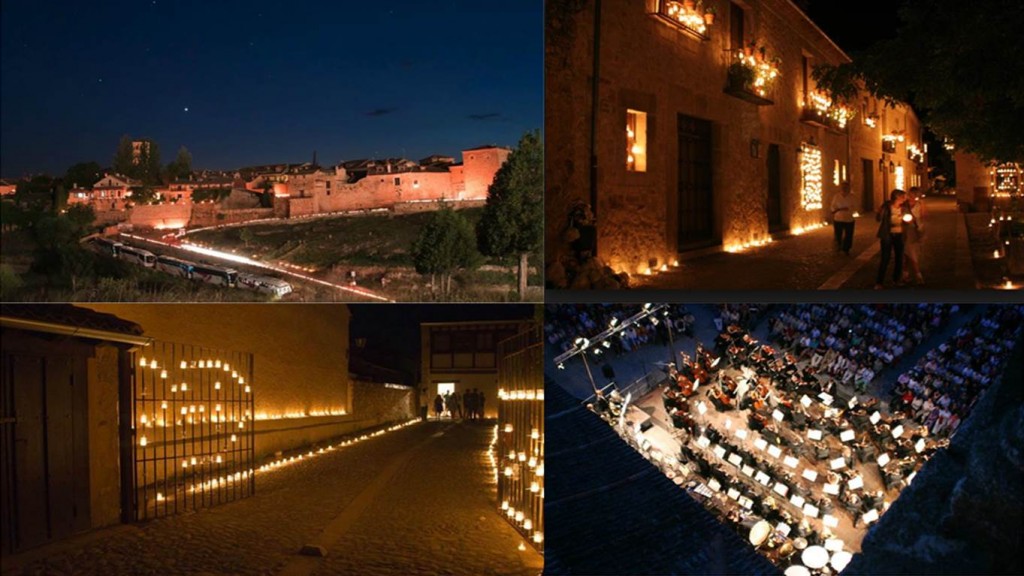 After the visit to the winery we are going to what we have done these last years and it is to visit Pedraza on the best moment of the year. During la fiesta de las velas.  Pedraza is a medieval town in which you enjoy visiting it, its castle and having its wonderful lamb. Pedraza is wonderful any time.

But there are two Saturdays on the year that is prettier than ever. This happens during el concierto de las velas. These days Plaza Mayor is closed for having a classic music concert with one of the most important orchestras of the world.  You can enjoy that accompanied by the stars and the candles. And all this happens in an illuminated town with thousands of candles with no electric light.
To go to the concert is wonderful. But to enjoy it after Bodegas Neo and with a glass of cold white wine in your hands is much better. There everybody talks lighter, impressed by the effect of the candles that takes from us the best.
It is a wonderful spectacle that fits like a glove to the Winebus philosophy, that consists of enjoying as much as you can with a glass of wine in your hands.
We wont get into the concert but we will listen to it and enjoy walking around.
We will go on the 5 of July so a fresh good white wine will be wonderful.
People who came last year were enchanted and I am sure this will happen again this year.
This is the program:
16 h Depart from Madrid (Cafetería Hotel Claridge, Plaza del Conde de Casal)
18 h Visit to Bodegas Neo
19,30 h End of the visit.
21 h Informal dinner at the entry of Pedraza. Pique Nique with white wine. Visit to Pedraza on the Fiesta de las Velas.
0 h Depart to Madrid
1,30 h Arrival to Madrid (Cafetería Hotel Claridge, Plaza del Conde de Casal)
Price of the trip (59 euros. (Dinner not included 15 euros optional) (Depart 16 h)(Cafetería Hotel Claridge, Plaza del Conde de Casal)
 To pay,
 you can do it with a transfer with a previous email
 to 
igsegma@gmail.com
, 
or calling to 630 099 630. There are discounts for groups and members of the Winebus Club. (Booking with 25 euros you will pay tthe rest on the day of the event)