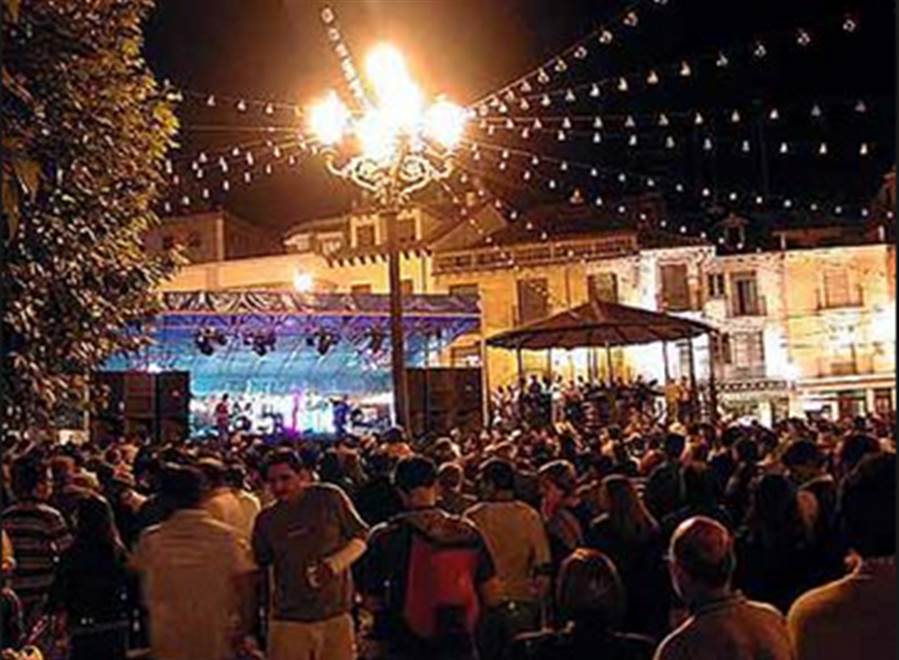 How great does a festival have to be in order to ignore if it rains or thunders?
I've been visiting Aranda de Duero for quite some time. I know it well – from many different points of view. Whenever I go, I look for a different side of Aranda – the best side of Aranda – and I've found it.
I had been told of a special day that I wouldn't want to miss in Aranda, and it was the festival of peñas (wine clubs who preserve the cellars and organize the festival). On this day, all caves are open and all of the wine clubs and its members join together to celebrate the festivities.
This happened on Saturday, September the 13th this year.
I won't be forgetting it.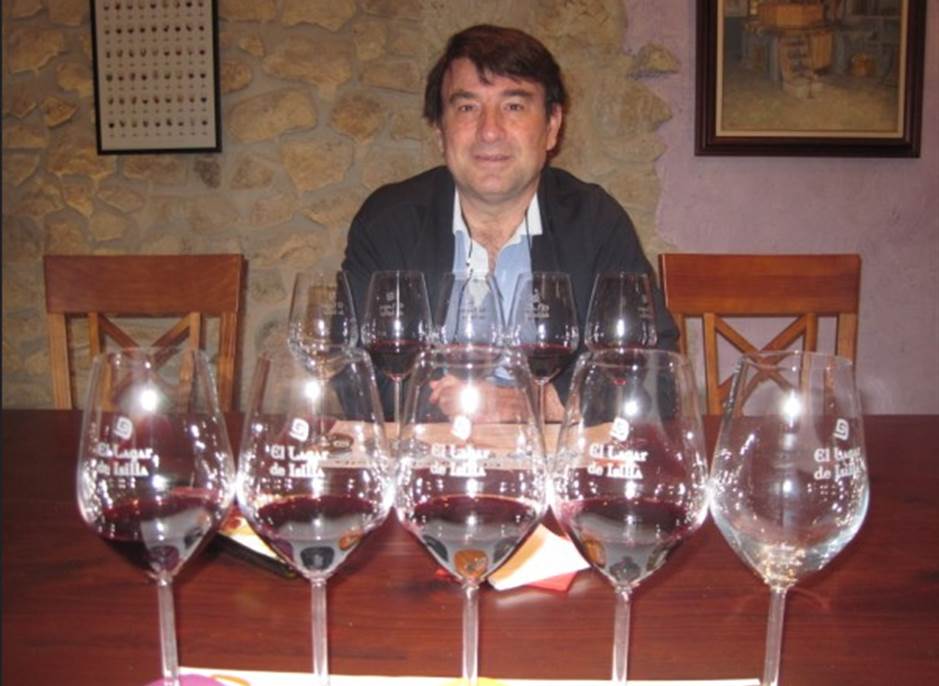 We had visited El Lagar de Isilla winery before; where they had treated us well. We had a very professional and intriguing visit. We tried four of their wines: a young one (red and black fruits, with a smooth finish), the roble (blackberry, redcurrant, roasted and smoky), the crianza (marmalade, vanilla, cinnamon), and the reserva (black fruit preserves, French oak, coffee) – all of them coming together like a symphony.
After the tasting, we had the privilege of being shown the wine-themed hotel, which they had opened the year before. Each of the rooms represents an essential aspect of Aranda: its wines, its vineyards, its cities (Peñaranda for example), and its medieval history. The visit to the winery and the hotel was the perfect example of how a visit to winery should be done. It was well worth the 100 miles trip from Madrid.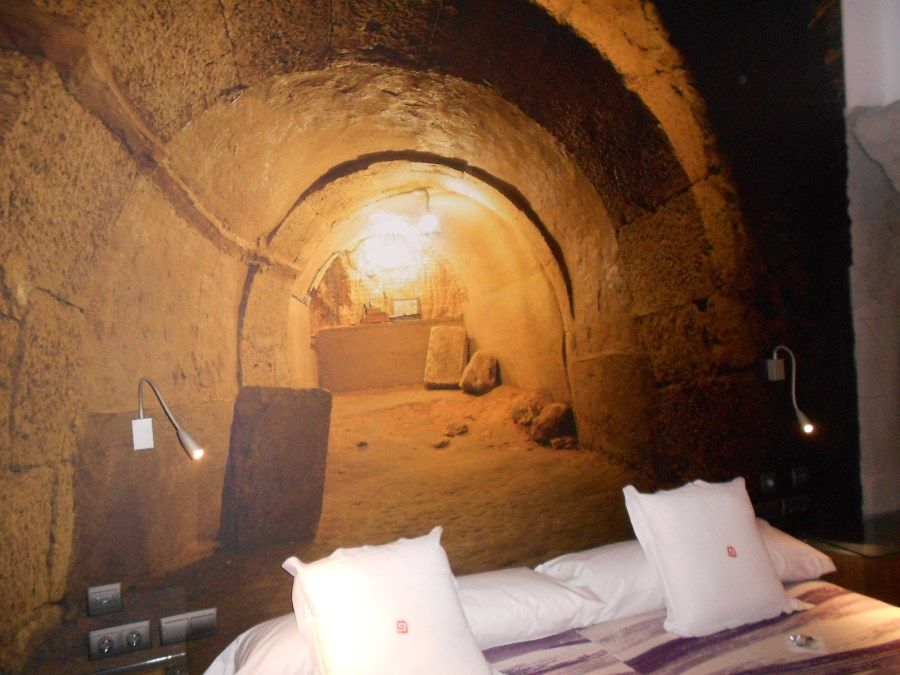 But we still hadn't reached the highlight of this trip which was enjoying Aranda de Duero during the festival.
It had stopped raining. We were 15 km away from Aranda and we could see clear skies all around, except towards where we were going, which was Aranda de Duero.
As we got closer, we saw the darkest of clouds, some lighting and thunder, which were all really worrying. We thought we were in the movie, "The Perfect Storm" with George Clooney.
We arrived. In this moment, it was just drizzling. The streets were swarming with people. Everything was as we had hoped for. All of Aranda and its outskirts were there in the city.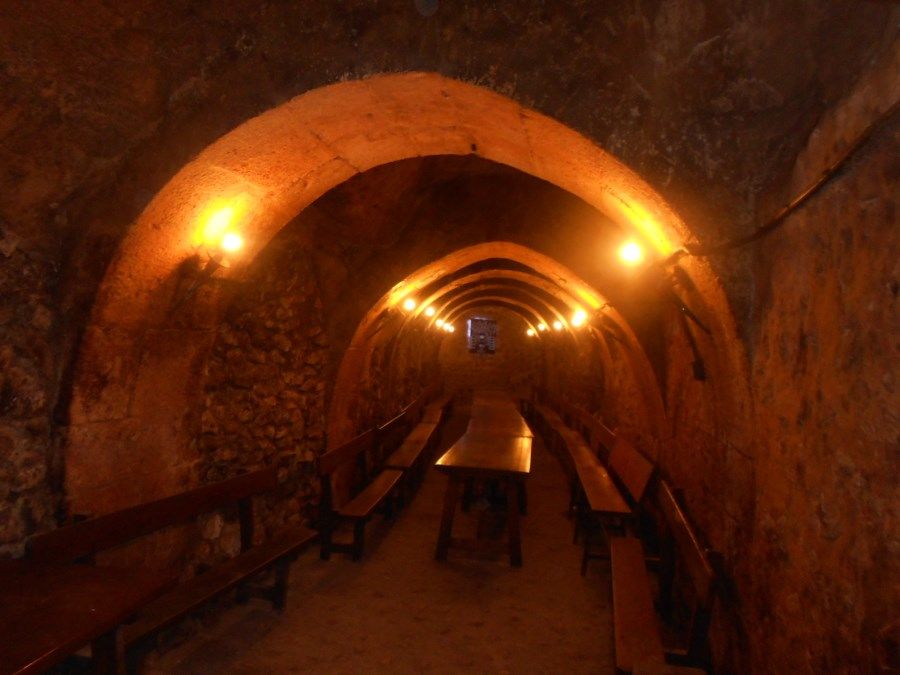 We went down to several caves and, as if by magic, the hustle and bustle from the streets had silenced. The caves in Aranda, whichever ones you visit, are impressive; especially if you are accompanied by Jorge, a good friend of mine who knows them by heart, making the experience infinitely better.
Because of the festival, all of the caves were open. In the 16th century, there were 300 wineries in the city. The city lived for and by wine. In order to preserve the wine, the only option was to dig into the earth in order to keep them at 15 to 16 degrees, which would keep them until the next harvest. They carved these caves, not in the fields, but beneath their houses; the network of caves being described as the authentic Gruyère cheese. There is nothing like being told these beautiful stories in the same place they happened, and this is why they say every rock tells a story.
I adore history. I have read a good number of history books but knowing it how it actually happened, where it happened, is a thrilling experience, and it's infinitely better if you do it with a glass of wine in your hand.
And this time, it wasn't just a glass of wine; we drank a rose wine from a porrón (a traditional wine pitcher in Spain). The foreigners in the group looked at it as if it were an UFO.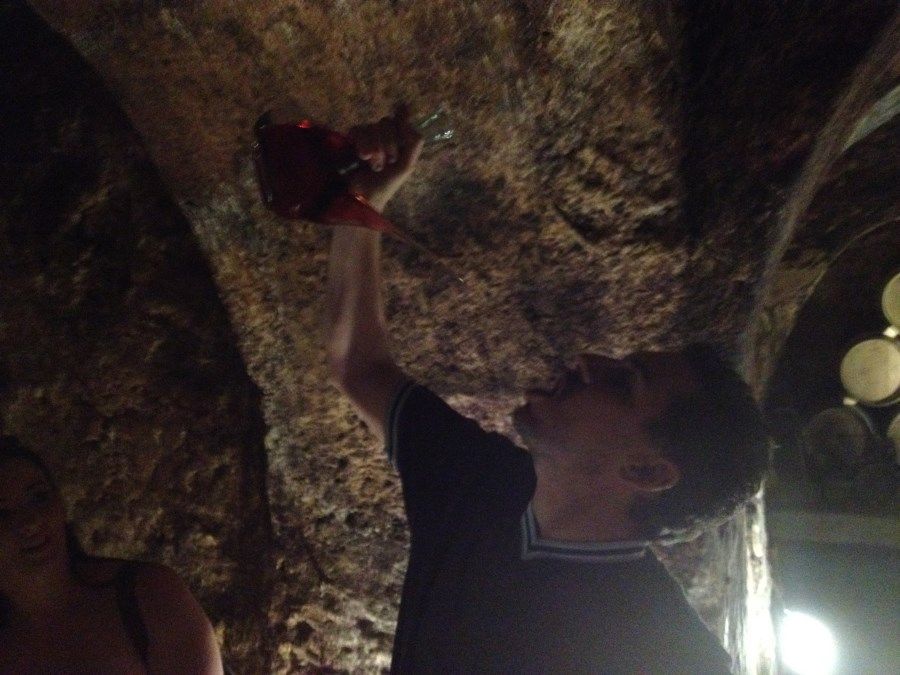 Speaking of wine makes me hungry. Let's go for some of the top-notch tapas and wine that El Lagar de Isilla has provided. But the bar is going to be completely full! We won't be able to enter! Well, we're feeling lucky.
Well, of course. It was full. Finding a spot at the bar seemed like an impossible task. I don't know what my friend Jorge did, but he was able to find a spot at a barrel which doubled as a table, and the countrymen who were already there kindly ceded it to us.
10 minutes later, José Zapatero, owner and alma mater of not only the winery we had visited, but the restaurant where we had found ourselves, came in and gave me a hug. 2 minutes later, we had another barrel.
The most incredible thing had happened. We had a spot – a privileged spot! And the tapas and wine (the Verdejo and the Roble from El Lagar de Isilla) started coming. And more tapas, and more wine.
Does anybody want more tapas? Nobody responded. Tapas and wine kept coming until someone said, "enough!" I said, "Well, it's time for dessert". They brought us some red peppers that had a sweet filling that could've been made by the gods.
As it was a little past 10 and we were missing the light and sound show in the Church of Santa María, we left in a hurry.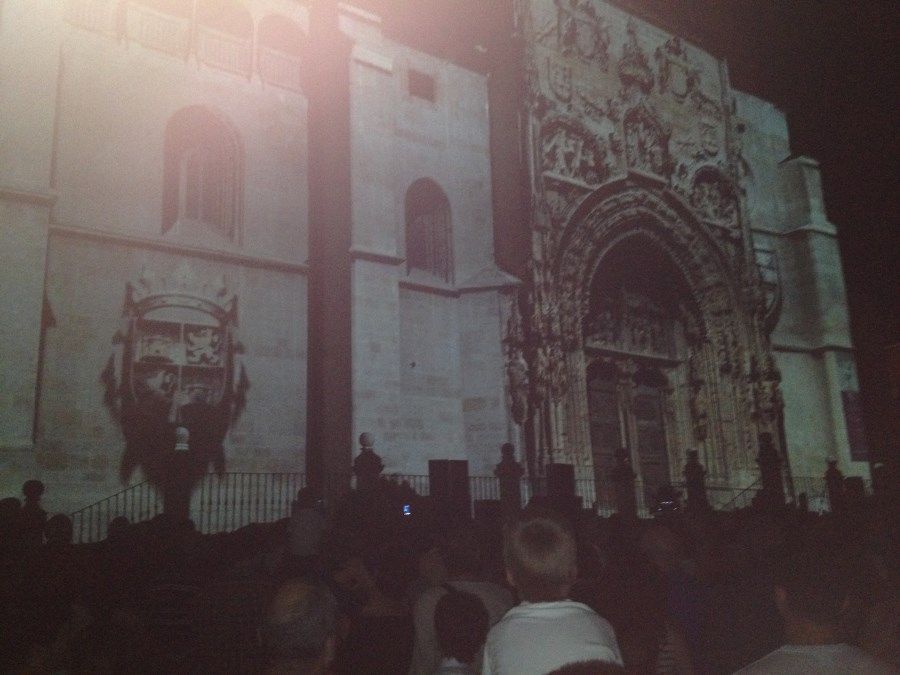 And there it was; an incredible show over the walls of the Church of Santa María, taking advantage of all the new technologies to use the characteristics of the buildings' walls as a 3D screen, where we were told the history of Aranda de Duero and the Church of Santa María. Incredible.
Jorge told us that we needed to be quick because the Fireworks were about to start. We ran and ran to another location about 5 minutes away.
There were fireworks from all the ages for those present to enjoy.
Fireworks aren't only for one to watch and hear. They form an integral part of culture for the Spanish as we have experienced them since we were little children, and for that, we also feel them.
Then it started to rain, but it seemed like the clouds had formed a special opening in the sky so that all those there could enjoy the show – many with umbrellas and some without. In one word – impressive.
It was a beautiful culmination of the trip in which nothing and everything was extraordinary.
We decided to end the visit to Aranda and return to Madrid. To our surprise, we found a flood of people, not leaving the city, but entering, which caused one of members of our group to ask, "Why don't we start a tour at midnight next year?" I've taken note. Who knows what next year will bring. The only thing that is certain is that we will be here, enjoying the festival and its wines again.
This trip to El Lagar de Isilla winery and Aranda de Duero during its festival has been a pleasure for all those who attended.
This has been the theme all summer, going to wineries with their marvelous wines and fantastic stories, with the culmination being visiting the most beautiful cities during their special celebrations.
Summer is over, but now we're in harvesting season, and like that, goodbye summer – delightful summer.
Bring on the harvest!

This post in Spanish: ¿Llueve? ¿Y a quién le importa? Estamos en las fiestas de Aranda de Duero.