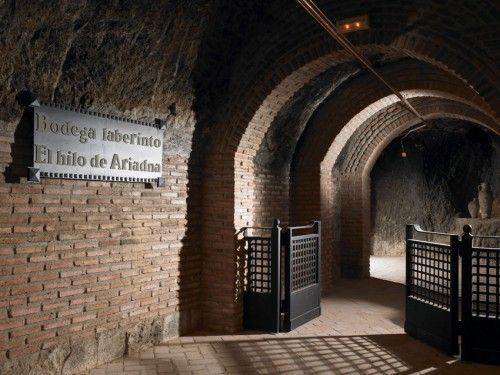 We are going again to a winery in Rueda. We are going to Grupo de Bodegas Yllera which is an spectacular winery.
Actually it is a double visit. On the one hand a visit to the facilities of winemaking of white wine of Rueda DO and then the red Yllera. Both wines are excepctional. And if we add to that, a spectacular winery and an a very attractive speech, the result is wonderful. Bodegas del Grupo Yllera are pioneers in many things in the world of wine and we will realize about it during the visit.
The wines are pretty good but the winery is at the same level.
We will visit the modern facilities they have 1 mile from Rueda, to turn back afterwards to visit the old winery, just in the middle of town with a wonderful story about "EL Hilo de Ariadna" We go down 20 metres deep to relate the Greek mythology to the world of wine.
From there we will go to Avila to have wines and tapas. There is only one hour distance. Arriving to Avila seems as if you went back on time for a thousand years because Avila might be the medieval town best conserved in the whole Europe. Before arriving you know you are getting into a very special place with  perfectly maintained medieval walls.
It will be a great pleasure to look around in such a beautiful town and have the best tapas and wines from the region. We are going to do there one of the best pleasures when coming to Spain which is going to have tapas, that means to visit 4 or 5 tabernas in which we will have the tapas paired with the wines of Castilla y León area.
Program of the day:
9,45 h Depart from Madrid ( Hotel Claridge Cafeteria, Plaza del Conde de Casal)
12 h Visit to Bodegas Yllera (Rueda). Tasting of 3 of their wines.
14 h End of the visit. We go to Avila.
15 h Tapas and wines in Avila (20 euros closed price and optional) (Not included on the price of the tour)
16,30 h Guided visit to Avila.
17,53 h Sunset.
18,30 h End of guided visit
20 h Arrival to Madrid (Hotel Claridge Cafeteria, Plaza del Conde de Casal).