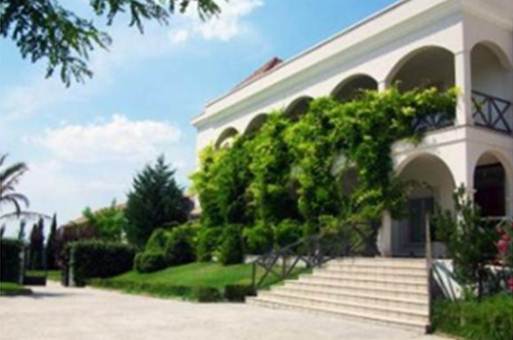 Nos vamos a  Bodegas y Viñedos Casa del Valle. Se encuentra en Yepes, a 65 kms de Madrid, con unos fantásticos vinos, con un muy buen discurso en bodega, con un viñedo precioso a pie de bodega y con unas vistosas instalaciones.
We go to Casa del Valle Winery. What a winery of the Olarra group!!! It is located in Yepes, 40 miles from Madrid, with amazing wines, with a remarkable speech at the winery, with a beautiful vineyard just beside the winery and very attractive facilities.
These are the wines that we are going to taste:
Hacienda Casa del Valle Shiraz, Hacienda casa del Valle Cabernet Sauvignon and Finca Valdelagua.
 Then there is Jose Fuentes the winery wine tourism responsible that is going to do the best of himself for telling us how this group has taken advantage of its experience to design and create this winery.
Jose´s speech is very solid and there is something very nice on this visit that you will appreciate that do not happen to often on the visit to other wineries. I am talking about visiting the vineyard. Everybody agrees that the key to have a good wine is obtained, from what is done in the vineyard. It is an act of recognition that the visit begins in the vineyard.
From there we will go to have lunch at the best restaurant of Campo de Criptana with very nice facilities and impressive views of the village. We will enjoy a menu of 20 euros and we will  have the typical manchego Lunch.
In Campo de Criptana we will visit its famous windmills. If you have not visited a village like campo de Criptana you don't know how beautiful La Mancha can be.
And we will see it on the sunset, from a hill that domains the vast plain of La Mancha.
Then we will go back to Madrid and we will arrive at 20h.
This is the program of the day:
10,45 h Departure from Madrid ( Hotel Claridge Cafetería, Plaza del Conde de Casal)
12 h Visit to Casa del Valle Winery and tasting of 3 wines.
14 h End of the visit to the winery. 15 h Lunch in Campo de Criptana (20 euros. Lunch price is optional and not included on the reserve)
17 h Visit to the Windmills of Campo de Criptana.
18,30 h End of the visit to Campo de Criptana.
18,46 h Sunset.
20 h Arrival to Madrid.