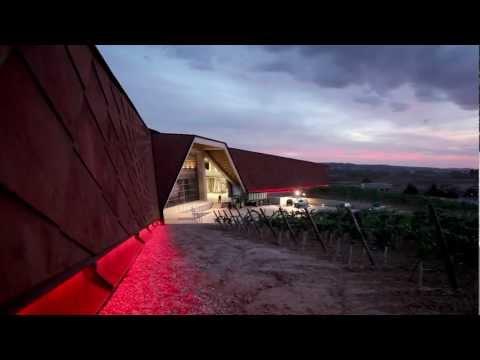 On Saturday July 18 we are going to the probably most spectacular winery of the whole Ribera del Duero if you look at it from an architectural point of view. It is one of the most important works of famous architect Norman Foster.
We refer to Bodegas Portia with an impresive aspect if you look at it from the outside, and even more spectacular if you look from the inside.
This facility you can see it from National 1 road to Burgos after Aranda de Duero.
This winery belongs to Grupo Faustino,. This group has 7 wineries  in different denominations of origin. They are located in La rioja, Navarra, Ribera del Duero and Castilla La Mancha.
In Ribera del Duero there is only this winery on the group. The experience on this area begun with the buying  of differerent vineayrds of the area. They planted Tempranillo grapes and they begun to sell wine of this winery in 2003 . They achieved with this wine the Gold Medal to the best Tempranillo of the world. There are 160 hectares of planted vineyard.
The winery is a huge facility of 12,500 square metres organized in 3 stages in a star shape, and each of its arms have the ellaboration , the fermentation and the ageing area. General services are at the center.
There they elaborate its wines: Porta Ebeia Roble, Portia Crianza, Portia Prima and Trienia.
At the end of the visit we will taste 2 of their wines.
From there we will go to los jardines de San Ildefonso.

And we go there because we habe begun in July the summer schedule in which we go to a nice winery in afternoon program and then we visit a town in feasts. This Saturday we go to la Granja to enjoy its program of magic nights of la Granja. They propose a different concert every saturday. This saturday there is going to have a classical music concert.
It is our intention to visit the garden of the Palace before going to the concert and to have tapas and wines on the town after having been on the concert.
As we get into the summer the program of "towns in feast is becoming stronger and more attractive.
We used to say In winter we were dayly players. In summer we change. We become players, looking for very special nights.
Join the Winebus and live the fancy nights of the Winebus
This is the program:
14,15 h Depart from Madrid (Plaza del Conde de Casal, Cafetería del Hotel Claridge)
16,30 h Visit to odegas Portia. Tasting of its wines.
17,45 h End of the visit to Bodegas Portia.
18,30 h Visit of the garden of San Ildefonso de la Granja.
20 h Classic music concert on the Program Noches mágicas de la Granja
21, 15 h Tapas and wines in La Granja
23 h Depart to Madrid
0,30 h Arrival to Madrid (Plaza del Conde de Casal, Cafetería del Hotel Claridge)