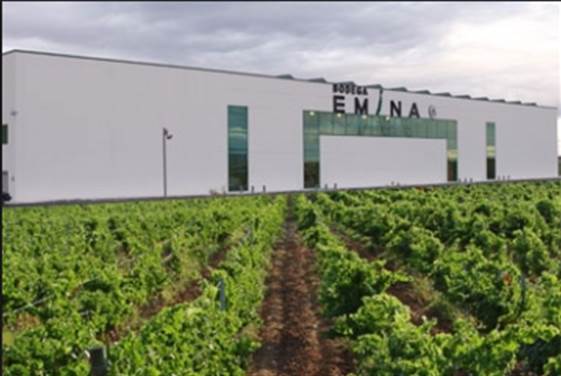 Each passing  day we are more and more excited about our program "Noches Mágicas" (Fancy Nights).
In summer what you want to do is to enjoy during the day, but mostly at the evening and at night. We say to everybody that we are becoming more day enjoyer than night enjoyer. But this is true until we have aurhentic and genuine nights. And these are the "Noches Mágicas" of the Winebus. We propose to start as usual with a visit to a winery that belongs to a group that is gaining attention worldwide. We refer to the Matarromera Group. This winery is just 2 miles from Medina del Campo. The Matarromera Group is one of the groups that is doing a better job in Wine International sales.
The commitment of this group in the DO of Rueda is Bodegas Emina. There we will taste 3 of their wines. Its Verdejo, its Gewurztraminer, its Heredad de Emina Chardonnay and/or Emina Crianza 12 months (red).
From there we will go to Medina del Campo to enjoy of an amazing town in its most awesome day. Medina is on these days on the Feria de Imperiales y Comuneros.
Medina is an unique town in the world. Unique because of its history, its medieval market, because no town like Medina can tell better what happened in Spain on the 15th century. A thousand things happened and most of them are in front of the eyes of the people who visit the town and want to look at them.
We will be in an unique city in its most attractive time of the year. On the Feria Imperiales y Comuneros in its Semana Renacentista. On this exhibition they commemorate its greatest heyday in the XVs and XVIs century. The streets of the Villa de las ferias will be full of colour, music and the athmosphere of the old markets that gave so much wealth to this land. We will have the chance to see to medieval competitions, a huge medieval market, a representation of the fights that the medieval knights performed at that time. And we will see the representation of Medina del Campo burning as a result of the war between Comuneros and the Catholic Kings. Program:
15,45 h Depart from Madrid (Cafetería, Hotel Claridge) (Plaza del Conde de Casal)
18 h Visit to Bodegas Emina. Tasting of  3 of their wines.
19,30 h End of the visit to the winery. We go to Medina del Campo and its Fair in Semana Renacentista (2 miles).
20 h Palenque de la Mota (Tournament).
20,30h y 21,30h Exhibition of old fencing. Plaza Mayor de la Hispanidad, Town Hall facade.
21,45 h Sunset.
22 h Historical Reenactment of "The Burning of Medina" Plaza de Segovia. Start of the Comunero parade to the Market .
22,15 h Torches parade from the castle, and strat of Imperial parade to the Market.
23 h Historical Representation of "Burning Medina" by the Asociación Comunera Medina del Campo.
23,30 h Depart to Madrid.
1 h Arrival to Madrid 2 stops (Atocha, y Plaza del Conde de Casal)