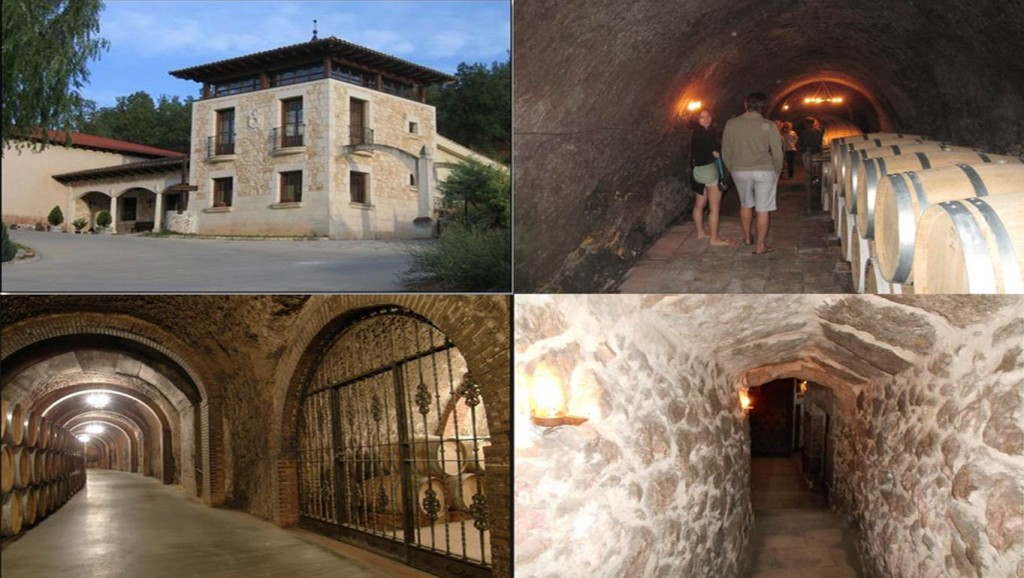 On Saturday September 12 we go to a winery out of a dream. A winery with caves that tell so many things that probably nothing more should be said. We say that there are places where the stones talk. This is one of these places.
But they do much more to talk. When you visit this winery you can understand in 1 hour, the past, the present and the future (wonderful future) of Ribera del Duero wines.
And of course we will taste some of their wines.
Some visitors of this tour are coming focused on what is going to happen in Aranda de Duero. But when they come to this winery, they change their mind in 10 minutes when they see the grandeur of this winery and its unthinkable caves. At the end what is hard is to convince them to leave the winery to go to Aranda. Then the hard task is to drag them to take them to the next stop.
With our body in a better condition we can go to Aranda de Duero in one its most beautiful days  of the year. We are talking about one of the wine capitals of the world. Where wine is the protagonist as few places in the world. On the 16th century there were 300 wineries in Aranda. Virtually the entire population was engaged in the world of wine, and had their vineyards. The way to preserve the wine during the whole year was digging under their own houses and to make their own caves. Thus they could preserve the wine at 17 Celsius degrees. At the middle of last century  these caves ceased to be operational as they could not compete on the modern world.
Now these caves are owned by the Peñas. They will be open for our delight that saturday. We will have tapas and wines on the pedestrian area and we will enjoy of the sound and light show that will take place on the Church of Santa María that night.
And after all this we will go back to Madrid very happy about all the experiences we have lived.
This is the Program:
15,45 h Depart from Madrid (Hotel Claridge Cafetería) (Plaza del Conde de Casal)
18 h Visit to Bodegas Ismael Arroyo. Tasting of several of its wines.
19,30 h End of the visit. We go to Aranda de Duero
20,30 h Visit to Aranda de Duero in its feasts, and visiting its caves.
21,30 h Having tapas and wines in Aranda.
20,31 h Sunset. The moon at 80,34%
23,15 h Depart to Madrid.
1 h  Arrival to Madrid, (Hotel Claridge Cafetería) (Plaza del Conde de Casal)