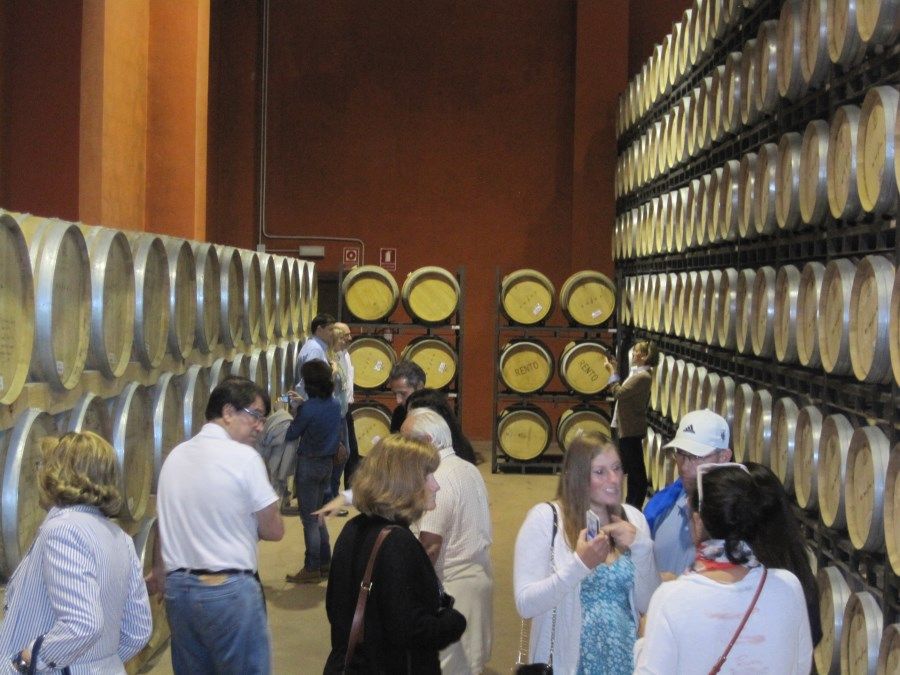 This time we are going to one of the spanish wineries that is doing a better good job promoting its wines all over the world. We refer to the Matarromera wine group. This group has considered wine tourism as a very good Marketing tool to have a direct communication with the consumer. The best way of improving their speach is to be in touch with the visitors/cosumers.
The winery we visit that Saturday is Bodegas Emina from the Matarromera Group. 
That is what they say it in their website:
When we are talking about Emina, we mean not only a winery rooted in the idiosyncrasies of Ribera del Duero, from the old times of the Vacceos Cistercian monks of the Monastery of Santa María de Valbuena. Besides history, Emina means art, means culture, and is one of the most significative references of the Golden Ring (Anillo de Oro) of Ribera del Duero. Tradition and modernity are combined to provide a touch of excellence that distinguishes Matarromera.
We will make a guided visit to their facilities where they will tell us nice stories that start at the thresholdof times. We will taste 3 of their wines and experiment with many different kinds of grapes in the varieties garden.
On the way back to Madrid we will stop in Cuellar. There we will have tapas and wines in its most iconic meson. We will make a guided tour of its castle. The castle is in an excellent condition.
During the visit to the walls of the castle we will have the opportunity to make a toast to the sun for all the experiences we have had on the day.
This is the program
9,20 h Depart from Madrid (Hotel Claridge Cafetería) (Plaza del Conde de Casal).
12,00 h Arrival to Bodegas Emina (Valbuena de Duero). Visit to the winery. Tasting of grapes and of 3 of its wines. Visit to the wine Museum, to the varieties garden.
14 h End of the guided visit.
15,15 h Tapas and wines in Cuéllar.
17 h Guided visit to Cuéllar and its Castle.
19 h End of the guided visit.
19,10 h Toast to the sun.
19,20 h Depart to Madrid
20,18 h Sunset.
21 h Arrival to Madrid. (Hotel Claridge Cafetería) (Plaza del Conde de Casal).