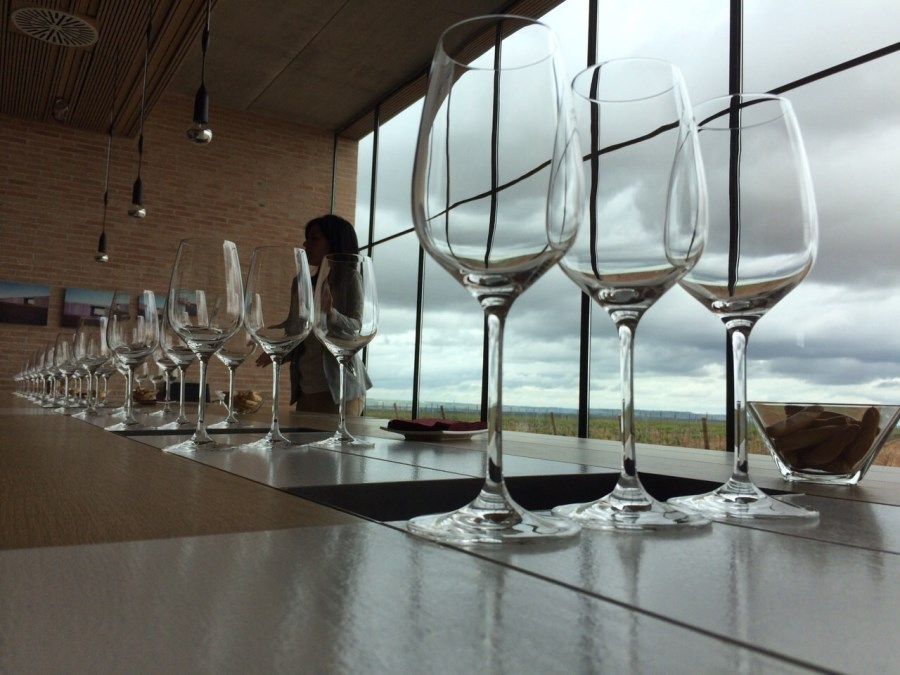 We are in Harvest. And each time that i hear that a town that lives for the wine are going to organize a festivitvity of harvest (Fiesta d ela vendimia) my heart goes faster. And I say to myself that I have to go.
On this case we are going to go to Rueda. Therte is going to be many activities, tastings, artichoke fetivity, taller fencing, of recyckling, of ellaboreation of artisanal bread, story telling (Cuentacuentos). And that also means the is going to be mamny menu local and foreign people in place.
We are the Winebus so we have to be sure that we have above all wine. That ids why we begin on going to a winery as we ussuaklly do. We will go to Bodegas Montepedroso.
This winery belongs to the Martínez Bujanda Group. This group has different wineries in different locations.
These wineries are very different among each other but they have something in common: that is making high quality wines from owned vineyards located in priviledged locations. They have 25 hectares of vineyards at 750 m high. Familia Martínez Bujanda elaborates one white wine with verdejo grape, that complements very well the range of wines of the group.
For this new project, the technical manager and winemaker, Lauren Rosillo, with a broad experience, went to South Africa and New Zealand to make wines and learn form the most prestigious areas in making white wine in the world.
There, we will taste 3 of their wines and will enjoy on a smelling game that will be quite interesting
From there we will go to have tapas and wines to Medina del Campo which is only 10 minutes away.
Afterwards we will enjoy of what is happening that day in Rueda.
Rueda is focused on wine and the place to be on that day.  
I wish you do not miss it
Program of the day
9,15 h Depart from Madrid (Hotel Claridge Cafetería, Plaza del Conde de Casal)
11,30 h Arrival to Rueda.
12 h Visit to Bodega Finca Montepedroso. Tasting of three of their wines
14 h Lunch of tapas and wines in Medina del Campo. (15 euros closed price and optional) (Not included on the price of the tour).
16,30 h Visit to the Harvest of Rueda Festival.
18,30 h Depart to Madrid.
20,30 h Arrival to Madrid (Hotel Claridge Cafetería, Plaza del Conde de Casal)