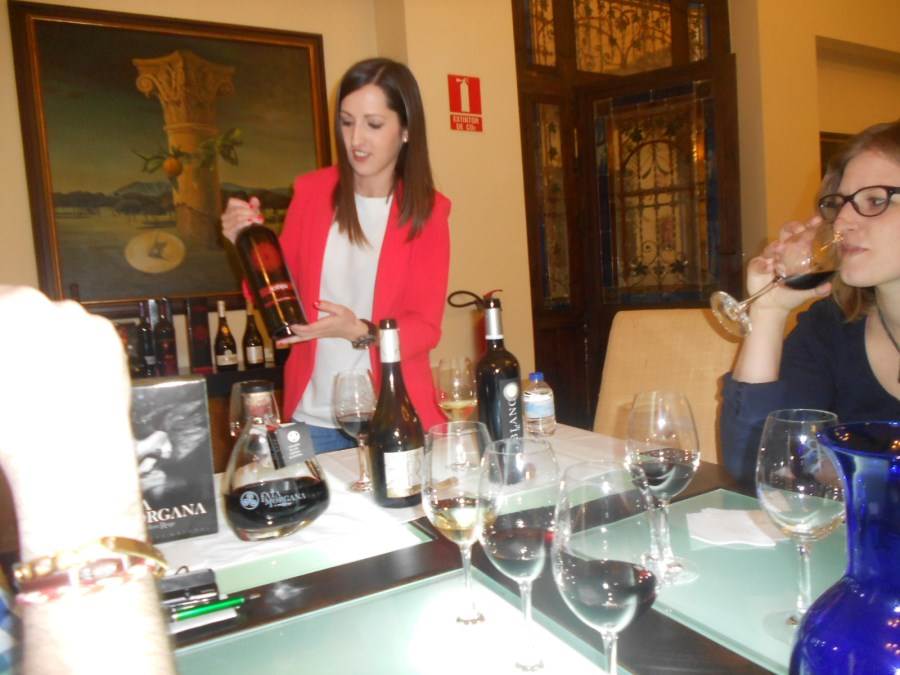 Every time we go south from Madrid with the Winebus, we go looking for different other things than when going north.
That does not mean the tour is less ambitious. On this case we go to a winery that permitted us to do one of the most attractive tours we have done this last fall. We refer to Bodegas Mont-Reaga. A good blogger friend made a fantastic crhonic about the tour (In Spanish) The title of the crhonic was: Cucharete disfrutó del Campeonato Mundial de Combate Medieval gracias al Winebus. (I am sorry its in Spanish). On that time we had a wonderful tour for many reasons, the winery, what happened in the the castle of Belmonte with the Medieval Worldchampionship Combat. After the Medieval Combat we went to the windmills of la Mota del Cuervo. With that additional stop we made the tour even better. Because we could have the possibility to look at the sunset with a glass of wine in hand. That tour influenced me so much that my look upon la Mancha has changed since then a lot. I am in love with La Mancha, its wineries, its castles, its windmills, and don Quixote spirit which is all around.
When I was a kid I was not a fan of don Quixote. In the school they forced me to read the Cervantes´s book. That is not the way of getting in love with something. I have learned to love it many years later, mainly when I see the foreigners reaction when I take them to see the windmills and La Mancha.
After one of these tours I received a wonderful email of a young American woman who said to me this…"Thank you for the tour. I will dream for days to come on the windmills, Don Quixote and the wines. I believe that people who come to the Winebus do learn and enjoy a lot, but we also do.
The visit to this winery is spectacular because of its facilities, its wines, its speech. We are sure we will have a very good time.
It is a modern winery made in 2006 that have learned to find a place mostly in the most important markets in the world. Bodegas Mont Reaga website
There we will taste 3 of their wines.
From there we will go to have lunch at El Toboso, in the best restaurant of the village. We intend to have a quick lunch. That would allow us to do many things on the afternoon.
On that afternoon we have a local guide that tell us the story of don Quixote and his lover Dulcinea. We intend to visit the Windmills of Campo de Criptana and its amazing lanscapes.
If we have time, the wheather help us and there is still day light, we intend to visit a lake in which many diffrent birds live. We intend to finish the tour wtaching a romantic sunset over the lake with a glass of wine in hand.
The stories we are going to listen on this tour are as important as what we see and visit. I expect that your conclussion is that the story of La Mancha is fascinating.
I hope we get to do all that. Come with us and see if succeed to do it all.
This is the program.
9 h Depart from Madrid (Cafetería Hotel Claridge, Plaza del Conde de Casal).
11 h  Visit of bodegas Mont Reaga. Tasting of their wines.
12,50 h End of the tasting. We go to El Toboso.
13,25 h Lunch in El Toboso (Aditional 15 euros, optional)
14,40 h End of lunch in el Toboso. Guided visit in el Toboso.
16 h End of guided visit to el Toboso.
16,15 h Visit to the windmills of Campo de Criptana.
16,45 h Bird watching on the wetlands of Alcázar de San Juan.
17,56 h Sunset.
19,45 h Arrival to Madrid (Cafetería Hotel Claridge, Plaza del Conde de Casal).