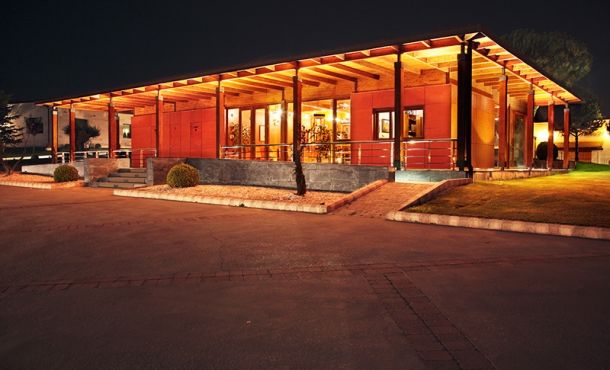 On Saturday December 19 we go to Bodegas Hermanos Pérez Pascuas 
The Bodega is located in Pedrosa de Duero. vinifies its own grapes from 135 hectares of vineyards. Its vines are over from twenty to eighty years old. The main grape variety is Tempranillo (90%). They also have Cabernet Sauvignon 10%. The terrain is smooth and the soils are chalky-clay. It is located at an altitude of 800m above sea level. The climate is Continental, with an Atlantic influence and an average year-round temperature of 11ºC, with an annual rainfall of about 475mm per year.
The Bodega's modern facilities are surrounded by vineyards and adjacent to the family's luxuriant pine forest, sharing space with traditional elements from the area.
The facilities are perfectly arranged to fulfil their specific winemaking functions or to enhance the appreciation of and knowledge about the wine.
Currently, about 500,000 bottles of wine are sold in over 38 countries. With 3300 new oak barrels, 50% french oak and 50% american oak.
Its wines are Cepa Gavilán, Viña Pedrosa, Finca La Navilla and Pérez Pascuas Gran Selección.
From there we will go to Segovia, but on the way we will have tapas and wines.
In Segovia we will see a different Segovia from the typical visit. We will go to the Museum of la Moneda  in which we will learn the story of money over time since the begining with the barter economy to the hand made coins until now with paper and virtual money.
But even more interesting will be the visit to the Interpretation Center of the Aqueduct of Segovia. We will know in detail what the romans did 2000 years ago to make such an impressive work. After that visit you will look at the aqueduct on a much more respectful attitude about the amazing work done 2000 years ago.
This is the Program:
9,30 h Depart from Madrid ( Hotel Claridge Cafeteríal, Plaza del Conde de Casal).
12 h  Visit ofBodega Hermanos Pérez Pascuas. Tasting of 2 its wines.
13,30 h End of the visit to the winery. We go to Segovia.
14,30 h Tapas and wines lunch in Cuéllar. (Aditional price 15 euros, optional)
15,45 h End of lunch in Cuéllar. We go the Museo de la Moneda in Segovia.
16,30 h Visit to the Museo de la Moneda and Centro de Interpretación del Acueducto de Segovia.
17,50 h Susnset from Zamarramala.
19,20 h Arrival to MadridMadrid (Hotel Claridge Cafeteríal, Plaza del Conde de Casal).