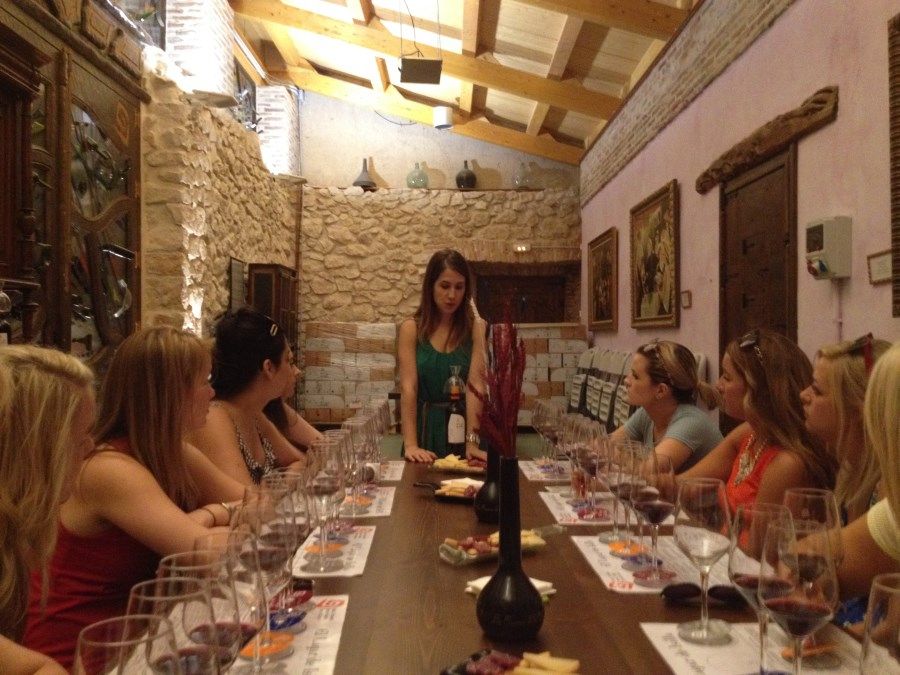 We are going to a winery that they know very well what they are doing. They have wonderful facilities in Aranda de Duero and a new winery in la Vid, 12 miles from Aranda de Duiero. Its owner, José Zapatero impressed us so much when we first met him, that I could not resist writing the post "No time for having lunch but I love so much what I do" (In Spanish)
El Lagar de isilla is one precise example of what happened on the 60s in Ribera del Duero. Then, there were many wineries that kept their wines on the centenary caves that were underneath its facilities in Aranda de Duero.
What José said to us is that, at that time (the 60s) in El Lagar de Isilla, the more wine bottles they sold the more they lost. The cost of handling and moving the wine on those old caves made impossible to get any profitability. They had to take a decision between two alternatives: 1) To stop elaborating wine 2) To create the adequate facilities to the new times. In El Lagar de Isilla they decided to go this second way. 
Since then, they have been the precursors of many of the new things being done in Ribera del Duero. They have made different investments. Last year they opened a wine hotel with 10 amazing rooms decorated on the Ribera del Duero Style and a big restaurant with 300 persons capacity .One year later I can say they have been very successful on these new investments.
There we will taste a minimum of 3 wines.
From there we will go to Segovia, but on the way we will have tapas and wines.
In Segovia we will see a different Segovia from the typical visit. We will go to the Museum of la Moneda  in which we will learn the story of money over time since the begining with the barter economy to the hand made coins until now with paper and virtual money.
But even more interesting will be the visit to the Interpretation Center of the Aqueduct of Segovia. We will know in detail what the romans did 2000 years ago to make such an impressive work. After that visit you will look at the aqueduct on a much more respectful attitude about the amazing work done 2000 years ago.
This is the Program:
8,45 h Depart from Madrid ( Hotel Claridge Cafeteríal, Plaza del Conde de Casal).
11 h  Visit of Bodegas El lagar de Isilla. Tasting of 3 its wines.
12,30 h End of the visit to the winery. We go to Segovia.
14,15 h Lunch in a good restaurant of Segovia. (Aditional price 15 euros, optional)
15,30 h End of lunch in Segovia. We go the Museo de la Moneda in Segovia.
16 h Visit to the Museo de la Moneda and Centro de Interpretación del Acueducto de Segovia.
17,49 h Sunset from Zamarramala.
19,20 h Arrival to Madrid (Hotel Claridge Cafeteríal, Plaza del Conde de Casal).