La Mancha is the the largest surface of vineyard in the world. It might one of the best áreas in Spain for growing grapes of good quality. At least that is what several wineries with experience in other areas of Spain have decided to open on this 21 th centuriy a winery on this land. So, it is interesting to realice how this área has the wineries with the most new technologies and also the oldest. La Mancha could be the most picturesque área of Spain for that reason. And, on the other hand we have Toledo as an historic town of medieval era and villages as Consuegra, Campo de Criptana and La Mota del Cuervo, all of them with amazing windmills, and the best places for doing birdwatching. We also do that things on the Winebus because we consider taht everything is better with a glass of wine in hand.  
Featuring private Tours
Customized attention.
We pick you up at your hotel or current address within the Region of Madrid.
All our tours are carefully designed and selected in accordance with to your needs.
Contact us by filling out the following online form. You can also get more useful details about our services by email or by phone and we will send you our feedback as soon as possible.
In the Medieval Castle and the Windmills of Consuegra June 2016
Wine tourism in MontReaga and visiting El Toboso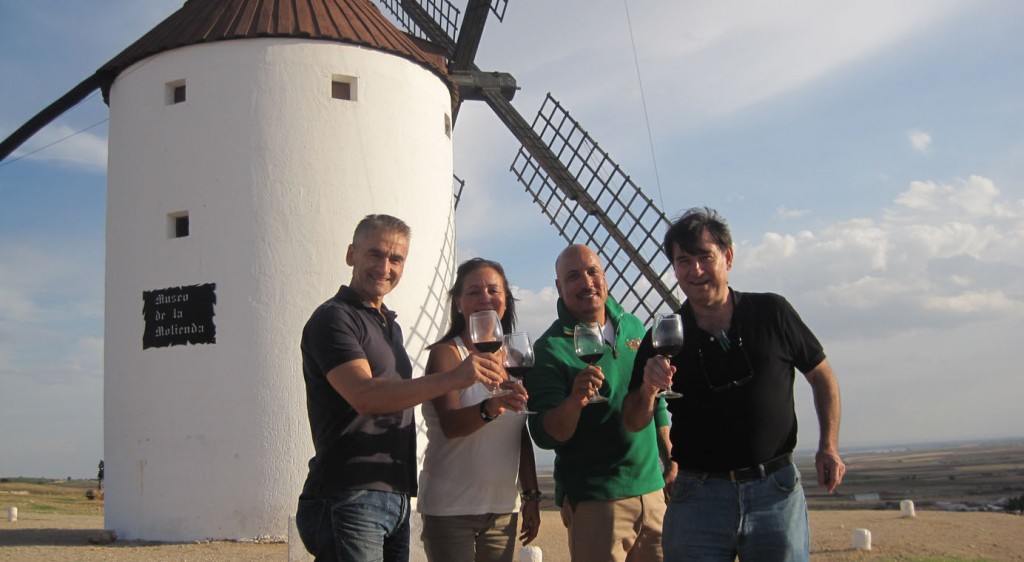 English reviews
"Excellent Day Trip",    "One of the best things you can do when in Madrid!",    "Outstanding! Thank You, Ignacio y Ana"
Opiniones en español
"Fantastica",    "Envase y contenido excelente",    "Vino, viaje, relacionarse!",    "En grupo, ni lo dudes
",    "Excelente forma de conocer España y sus viñedos",    "Mas alla de una visita a un vinedo",    "Mucho más que una cata de vinos",    "Experiencia excelente, una jornada que no se te olvida",    "Salir de la rutina",    "UN DIA MARAVILLOSO CON WINEBUS",    "Un día espectacular"