| | |
| --- | --- |
| Persons | Price |
| 1 | 260 € |
| 2 – 3 | 178 € (per person) |
| 4 – 5 | 163 € (per person) |
| 6 – 8 | 159 € (per person) |
(Small group guaranteed)
What You Can Expect from the Windmills of la Mancha Tour
If you accept this activity, you will visit a remarkable winery in Don Quixote´s land, one of the most popular books in the history of literature thanks to the brilliant work from Miguel de Cervantes (a successful Spanish writer from the 17th century) La Mancha is the the largest surface of vineyard in the world and is also considered as one of the best areas in Spain in order to grow high-quality grapes.
Nowadays, some of the best Spanish companies are now opening new wineries in such area and those initiatives are generating a lot of wealth and employment there. According to the experts, the local producers have been improving its wineries by introducing the latest technological developments within the region they operate, as well as maintaining the oldest ones in order to satisfy the consumers´ needs. La Mancha can be considered as one of the most picturesque areas of Spain for that reason without forgetting other tourist attractions like the medieval town of Toledo, for example. There are also other historic medieval towns and villages we should consider such as Consuegra, Campo de Criptana and La Mota del Cuervo, all of them with amazing windmills, hiking trails and birdwatching facilities. Everything is possible with Winebus because we consider that things will be better with a glass of wine in hand. We will also have lunch at some well-known restaurants where people can taste some typical dishes in this specific area. If you are interested in the Spanish way of life, you should definitely try its national food. If you want to carry out the same activities like the ones from the local people, you should eat the same recipes and visit some interesting places there.
Lunch is not included in the price of the tour and visitors will have other different options from the organizers of those trips by considering the prices of the meals (From 15 to 45 euros)
Tour Program
Depart from Madrid , Hotel Claridge (Cafetería), Plaza del Conde de Casal 6, 28007 Madrid (see on map)
Winery guided visit.
Lunch.
Activity in the afternoon.
Depart to Madrid.
In the Medieval Castle and the Windmills of Consuegra
Wine tourism in MontReaga and visiting El Toboso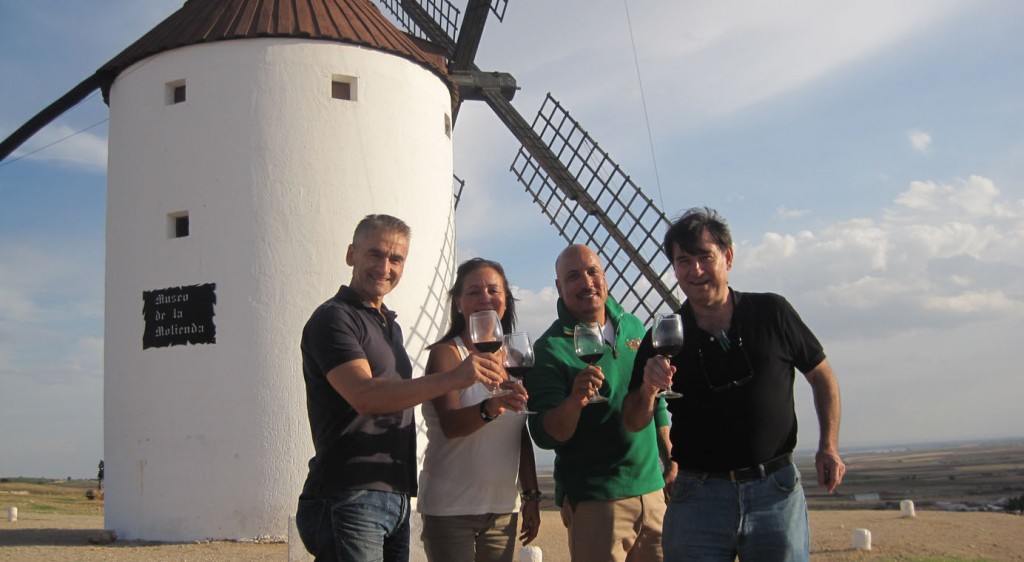 English reviews
"Excellent Day Trip",    "One of the best things you can do when in Madrid!",    "Outstanding! Thank You, Ignacio y Ana"
Opiniones en español
"Fantastica",    "Envase y contenido excelente",    "Vino, viaje, relacionarse!",    "En grupo, ni lo dudes 🙂",    "Excelente forma de conocer España y sus viñedos",    "Mas alla de una visita a un vinedo",    "Mucho más que una cata de vinos",    "Experiencia excelente, una jornada que no se te olvida",    "Salir de la rutina",    "UN DIA MARAVILLOSO CON WINEBUS",    "Un día espectacular"