No
Meals included in price
English, French, Spanish
Languages
| | |
| --- | --- |
| Persons | Price |
| 1-8 | 159 € (per person) |
(Small group guaranteed)
What You Can Expect 
According to the experts,  the Duero River is synonymouys of quality all the way and the wines from the Ribera del Duero area opened to the world later than the ones from La Rioja (another region where people can buy some of the best wine bottles from Spain)
A Spanish apellation of Origin called "Ribera del Duero" was created in 1980 in order to improve the promotion of their wineries everywhere, as well as the final sales from the companies. Thanks to this initiative, more and more people are now supporting and buying its wines. Currently they have enormous international prestige. But to enjoy Ribera del Duero you have to consider not only its wines, but also its towns (some of them were built in the Middle Ages)
Ribera del Duero is only 2 hours far from Madrid. The typical grape that is mainly used by the local producers is called "Tempranillo", but you can also find some other kinds of grapes there.
We will begin our tours  with a visit  to a well-known winery. The wines which are produced there are full-bodied wines where the fruit (the main raw material that is used for this process) is very present.
Later, we will go to have lunch to one of the most renowned restaurants within the area. In the afternoon we will visit something which will be worth to help understand  what Ribera del Duero means at an historical and monumental level. We may visit a medieval town (Peñafiel, Segovia) cathedrals, castles, underground caves.
We can also go to some festivals and other special events in order to find out more interesting things about the Ribera del Duero area and its tourist attractions.
Lunch is not included in the price of the tour and visitors will have other different options from the organizers of those trips by considering the prices of the meals (From 15 to 45 euros)
 Tour Program
Depart from Madrid , Hotel Claridge (Cafetería), Plaza del Conde de Casal 6, 28007 Madrid (see on map)
Winery guided visit.
Lunch.
Activity in the afternoon.
Depart to Madrid.
Vendimia en Bodegas PradoRey y visita a Segovia con Winebus.
Enoturismo en Bodegas Ismael Arroyo y la noche de las velas en Pedraza
Visitando Bodegas Portia y senderismo por la Segovia verde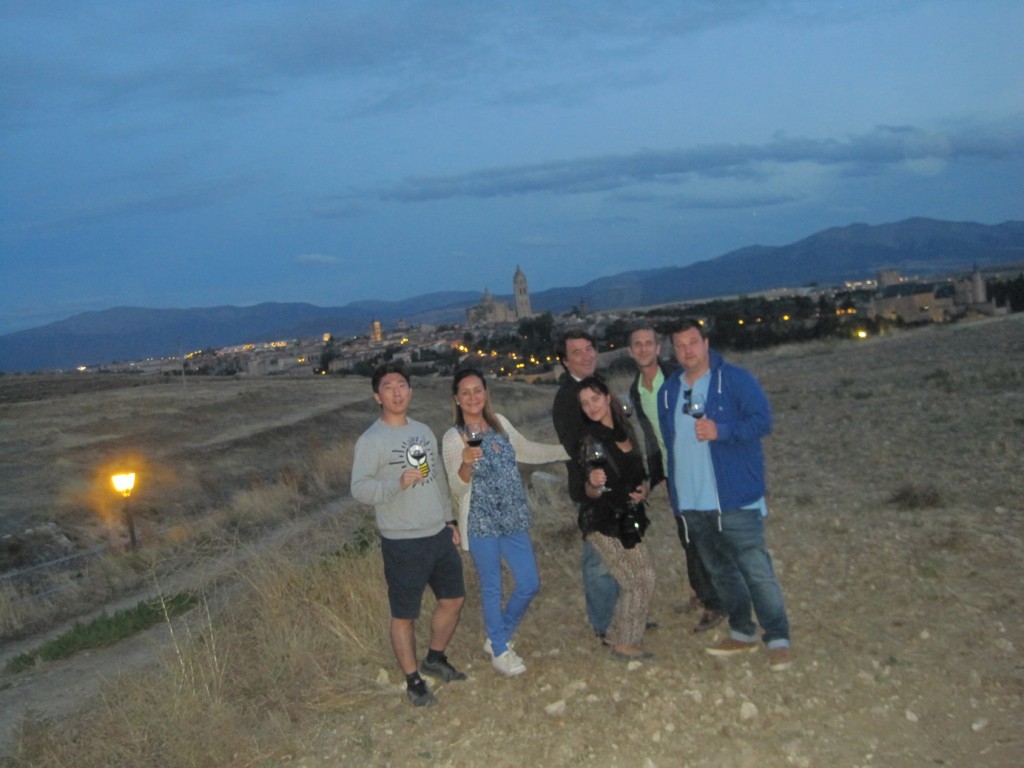 English reviews
"Highlight of my Madrid Vacation",    "Delightful",    "Ribera wine tour",    "Ribera & Pedraza: Night of the Candles",    "Feel like a Local",    "The Wine Bus Rules!",    "The magic wine night at Ribera del Duero and Segovia",    "The host made the trip",    "6/5 stars for the Winebus!",    "Great day out" ,    "Unique/customized wine tour & visit to Segovia",    "A MUST DO in Madrid! Unforgettable experience!!",    "A great way to explore Spain's wine culture",    " WINE & CULTURAL EXPERIENCE IN RURAL MADRID",    "A must for winelovers"
Opiniones en español
"Una noche inolvidable",    "Maravillosa experiencia",    "winebus tour in Madrid wth Ignacio",    "Insuperable",    "The ultimate experience in wine in Spain!!!!!",    "Una excursión inolvidable.",    Ribera del Duero auténtica y maravillosas Hoces del Duratón"