The best wine bars in Madrid and gourmet shops for wine lovers visiting the capital. 
If, apart from drinking wines in the capital, you would like to take a wine tour during the day from Madrid, click here. Madrid Wine tours
I am writing this post for the visitors of our tours who repeatedly ask us for recommendations on where to go for good wines in Madrid.
In our tours, we try to take them to spectacular wineries with very good wines, but even if it is a wine tour, those who come are delighted if what they eat and the food experience is up to the wines.
We believe that our visitors are delighted with what happens.
But there is a group that is excited by what has happened in the winery and they give that phase a 10 out of 10, but they have also loved the food and where we ate and give that a 9 out of 10. And there is another group that loves what has happened in the winery (they give it a 9), but they get even more excited about what happens in the restaurant and in the rest of the tour, and they give that part a 10.
This post aims to serve these two types of groups: Those who are looking for very good wines with good food to accompany them. To these, I will put this label (wine).
And those who are looking for very good food and wines are not left behind. I will label these (food). Are you more (wine) or more (food)? You are the one who has to answer that question.
I have to say that, with the end of the pandemic, the offer has changed a lot. There are many new businesses that understand that they have to provide excellent service when it comes to wines. They offer Madrid wines (Vinos de Madrid),  Spanish wines (more than 70 wine regions), and also international wines. 
Map 1
We are going to try not only to recommend places but also areas of Madrid and what other places are nearby because one of the pleasures is not to visit a single place but several walking.
That is one of the charms that one can find and it is what we in Spain do go for wine (or tapas). Visit 3 or 4 sites and enjoy 3 or 4 experiences.
In the places that we recommend, we have put on Map 1 or Map 2 that serve to better navigate the city. We do not intend that everything that appears on a map to be covered in one day, but it is good to know that there are attractive places near the one we are visiting to make that jump to that other nearby site.
Map 2
I want to give my opinion about the places I would go to enjoy drinking wines for people with tastes similar to those that are coming in our wine tours.
It is also for people who, not having enjoyed our services, are similar to those who have. And also addressed to those who read it say… what a good time I've had in those places. I do want to go with these people who know what I like.
The best wine bars in Madrid according to our criteria: Wine bars near me.
Vinoteca Vides. (Wine)
In calle Libertad 12 . Wine bars near me. Where is it?
350 references in the middle of Chueca quarter. Wines from Spain, France, Germany, Portugal, Chile, New Zealand, the United States. And, of course, Italy. (Their owners were born in Italy).
They suggest pairing, forgetting every cliché we had in our mind about orthodoxy pairings. In the wine tastings that are done very often, they offer us wines that they have met on their travels and that they know perfectly, not only the wines but also their surroundings and their history.
And they tell those stories in the numerous tastings that they organize in their establishment. For authentic wine lovers. At the top of the list.
In Map 2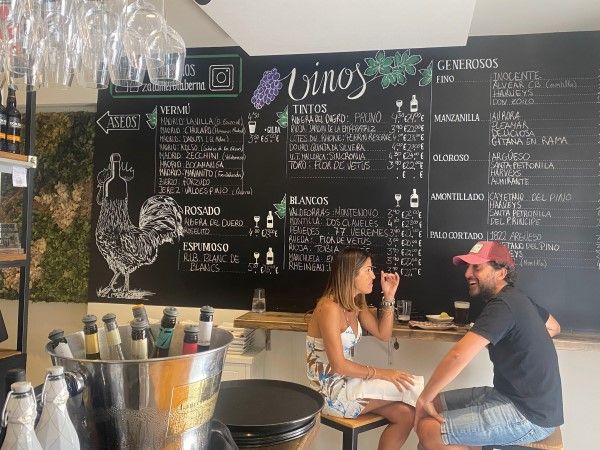 Vinoteca Angelita. (Wine)
Calle de la Reina 4 Wine bars near me Where is it?  
How to get there from Vinoteca Vides? 6 min walk.
The wine and cocktail area (in the lower part) is very attractive and the staff that attends you is very prepared. A very nice place. It is open every day except Sunday from 5:00 p.m.
In Map 2
Berria Wine Bar (Wine) Wine bars near me Where is it?  
It is a spectacular place with an impressive selection of products. The tremendously attractive place, in an unbeatable place, the terrace, very nice, in front of the Puerta de Alcalá.
When you look at the shelves, you think you're in the National Library. You can find many national and international brands, a good amount you can have by the glass.
To eat, uncomplicated dishes and to be shared.
A great place to have good wine with a fantastic environment. Depending on what you ask be aware of what you have in your wallet.
In Map 2
Doctor Castelo Street Area (In map 1)
There is an area that one cannot miss, which is the area next to El Retiro on Calle de Doctor Castelo and its surrounding streets. This area is famous for its quality tapas and many of its bars and restaurants are well known to wine lovers.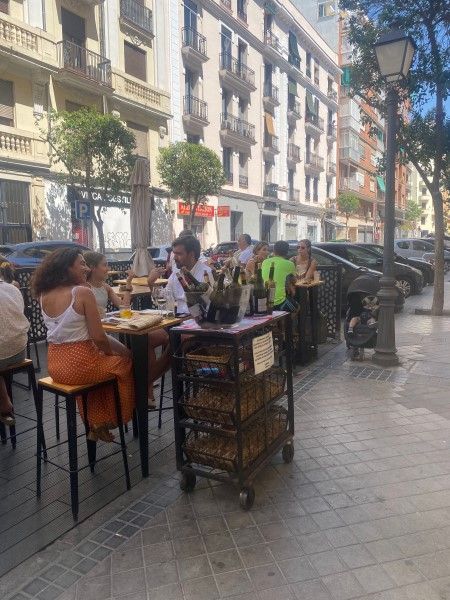 Taberna Laredo. (Food) In Doctor Castelo 30 Wine bars near me  Where is it?
Distance with La Castela 2 minutes
In Map 1
One of the best in Madrid in terms of tapas with a pretty nice wine list. Their prices are higher than in other places. But who is not going to pamper himself on occasion? Other places have very nice wines and then food is following those good wines.
In this case, it is the opposite. Food is first and then wines are doing their job to make the experience better. This is general for Doctor Castelo area.
La Castela. (Food) In Doctor Castelo 22 Wine bars near me Where is it?
Distance with Taberna Laredo 2 minutes
This place is so good that even the wives of the presidents of the United States come to enjoy their wines and tapas when they have visited this town. They are very well recommended. (both Democrats and Republicans)
In Map 1
Taberna Zalamero. (Wine) Wine bars near me
Distance with Taberna Laredo 7 minutes
Quite a small place, with a tiny restaurant and terrace, but since you are in the Doctor Castelo area (and if there is no room in the other establishments in the area, it is recommended).
In Map 1
La Montería. (Food) Wine bars near me Where is it? 
Distance with La Castela 1 minute 
This site is consistent with the fame of the neighborhood and with a magnificent terrace.
In Map 1
Marisquería Norte Sur (Seafood restaurant). (Food) Wine bars near me Where is it?
Distance with Taberna Averías 15 minutes
At first glance, anyone would say that it is a bar like any other, but the first detail that stands out is that the kitchen is in the shop window of the premises. And one can perceive the quality of what they are going to offer you there. One can reserve a table in its small restaurant and on its terrace.
But I think the experience is much better standing when eating and drinking at the bar. They have good wines but this place stands out for the quality of its seafood at a very acceptable price.
The only problem is that it is far from other good wine areas in Madrid, although Ponzano street, which is becoming fashionable, is close by.
In Map 1
Taberna Averías. (Wine) Ponzano 16. Wine bars near me Where is it?
Distance with Restaurante Norte Sur 14 minutes walking
With a truly impressive wine list. It's on Ponzano street. A street that has taken on a lot of atmosphere in recent years. The other bars in the area are drinking beer but in here you drink beautiful WINES. 
In Map 1
Dis Tinto Tavern. (Wine) Duke of Medinaceli 12 Wine Bars near me Where is it?
Distance con La Caníbal 1o minutes
It exudes class.
They offer 300 references, of which 30 by the glass, wines that are not easy to find elsewhere, being interested in small projects. 
His portions are original and well thought out for his client who is a wine lover and who is looking for a complement to that wine that he has come to drink.
It is on a street (Duque de Medinaceli), behind the Palace Hotel with other very good establishments and it intersects with Huertas street (very famous tapas and wine street, but not better than Duque de Medinaceli street).
In Map 2
La Caníbal. (Wine) Calle Argumosa 28 Wine Bars near me Where is it?
Distance with Dis Tinto Taberna 12 minutes
It has been opened very recently. They mainly offer wines from small producers that show their origin and with minimal intervention.
With 400 mainly Spanish, French, Italian, and Portuguese references, many of them can be consumed by the glass. They also offer wines and craft beers on tap. In the dishes, seasonal cuisine dominates.
The cathedral of natural wines and craft beers in Madrid. If you are an ardent defender of this type of wine, this is a place that you cannot miss.  They are doing a great job.
Other famous wine bars: La Venencia, La Fisna, Vila Viniteca.
In Map 2
Areas to visit in Madrid.
It is essential to take a walk around Cava Baja (In Map 2) and Cava Alta, Malasaña (In Map 2), and Mercado de San Miguel  (In Map 2) with many bars where you can have good tapas and wines.
As a closing of the visit. Wine shops in Madrid. Gourmet shops, …
Lavinia Wine Shop. (Wine) Calle José Ortega y Gasset 16.Where is it?
A store with the best selection of national and international wines in Europe.
In Map 1
Bodega Santa Cecilia Wine Shop (Wine) . C. de Blasco de Garay, 74. Where is it?
A store with a huge range of national wines.
In Map 1
Cuenllas Salesas Wine Shop (Wine)  Orellana 4 Where is it?
Open since 1939. Its brand is associated with high-quality products. They have 800 references on the menu and 70 in the store from all over the world. The offer is constantly changing. Their cuisine is simple but very high quality.A place with a good offer of wines, the place is very attractive and small. A good place to have good quiet wine, with some tables outside to have a nice dinner.
In Map 1
A place that we recommend to visitors to our city is to go up to the Gourmet area of El Corte Inglés in Plaza del Callao (In Map 2). There one can buy all kinds of gourmet food, and enjoy a tremendously casual atmosphere tasting a wide range of wines and with unforgettable views from the top of the Gran Vía area.