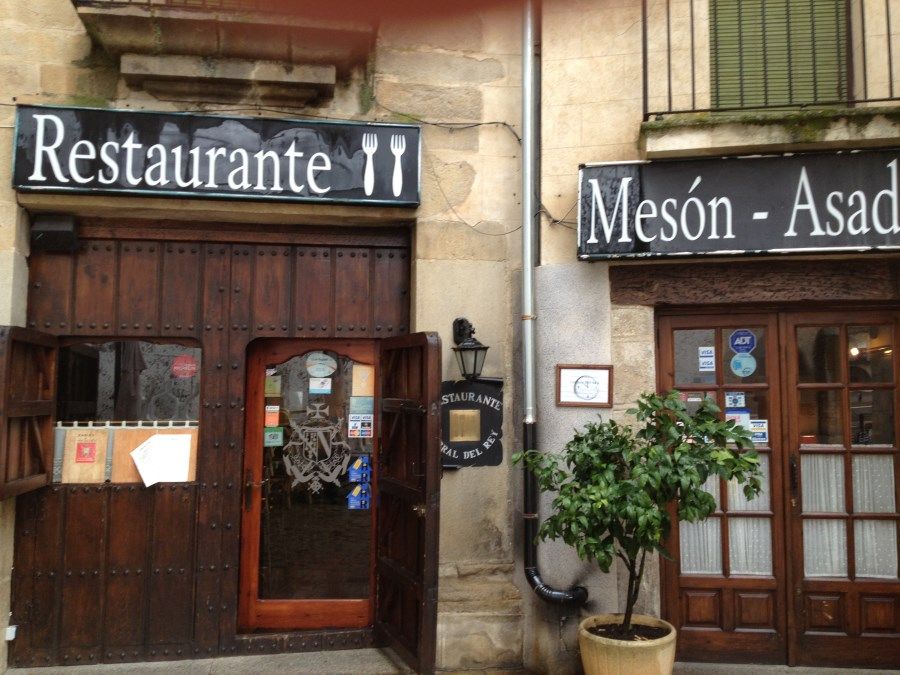 It comes from: Visiting Bodegas Habla and the medieval town of Trujillo
El Corral del Rey
What comes to mind when you read the word criadilla? Do you think of a small, potentially creepy animal – a critter of some sort? I thought the same thing until I was told by a local that a "criadilla de tierra" is, in fact, an uncommon Extremaduran truffle that is only harvested during a small portion of the year.
Food is an important aspect of any nation and culture. It's used as a way to represent and describe a group of people, but never has to use a single word – language is no boundary for its reach. I believe you can tell a lot about a culture just by tasting its cuisine, and after dining at one of Trujillo's best restaurants, El Corral del Rey, during my most recent Wine Bus adventure, I am left completely enchanted with Extremadura.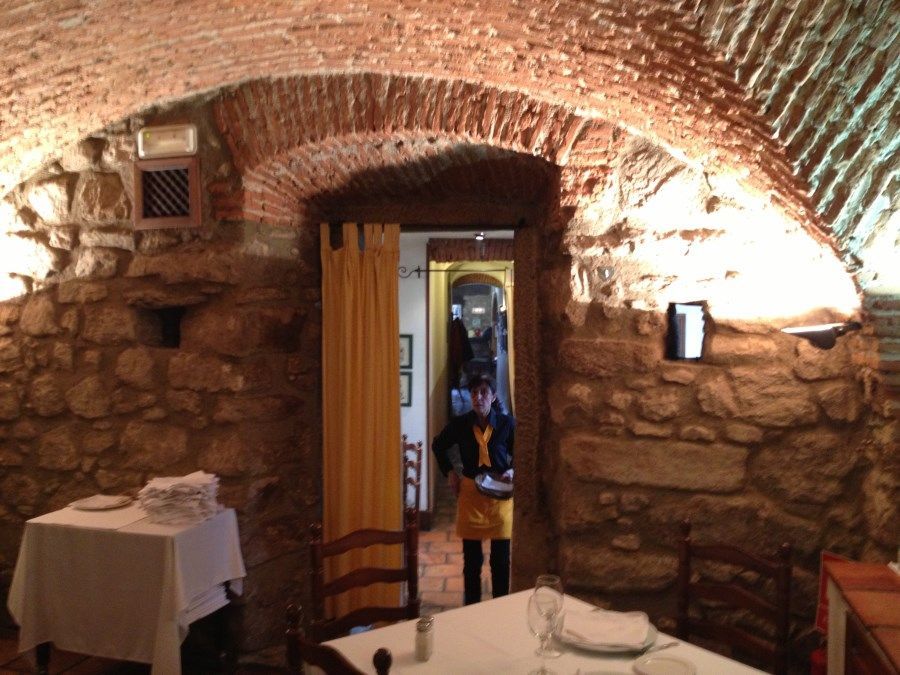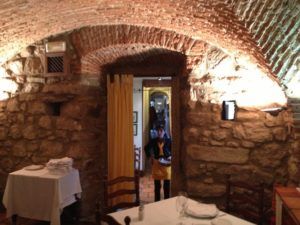 El Corral del Rey is located alongside the picturesque Plaza Mayor in the historic town of Trujillo. Its name, fit for a king, does it justice, as we all dined like the kings that Saturday afternoon. Ignacio, the owner and creator of Wine Bus, makes a point to take his guests to the best restaurants known in these villages to make sure they have an authentic and memorable experience – and memorable it was.
When we walked into the restaurant, we were ushered through the several separate dining rooms; some fitted with fireplaces, which was nice on this rainy day, and were seated at a large table in the back room. As always, Ignacio had purchased several wines from our tour at Bodegas Habla to serve over lunch, which paired perfectly with our incredible meal.
In the set "menú del día", I ordered the "sopa de ajo con huevo escalfado" (garlic soup with poached egg) and the "escalopines de ternera" (veal scallopini), with a lemon sorbet for dessert.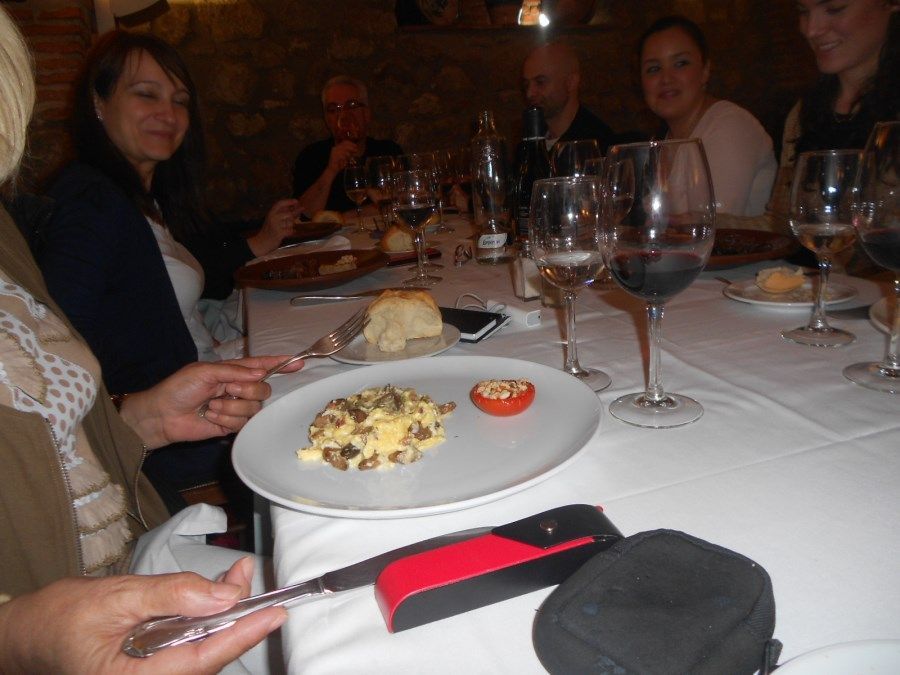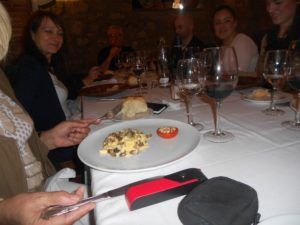 Not only was every bite delicious, but I was even fortunate enough to get a chance to taste a criadilla de tierra! I normally find mushrooms and other relatives of the fungi family to be dull and flavorless, but these criadillas were extremely savory and flavorful.
I hope I will get the chance to try them again. Extremeños know how to treat their lunch guests to a fine meal. If ever given the chance to return, I will most certainly be found eating my heart out at El Corral del Rey.
So finally, after several hours of eating, talking, and laughing over a few great bottles of wine and cafés cortados, it was time for us to embark on the city tour of Trujillo.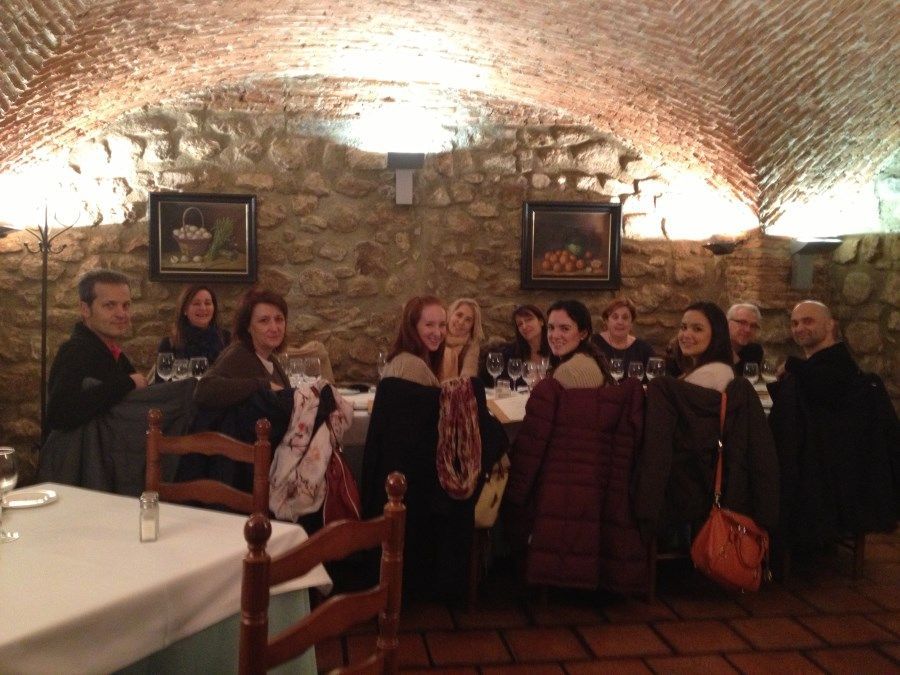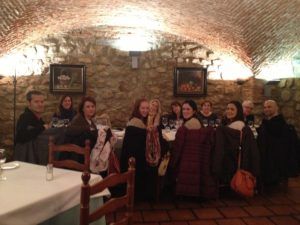 Trujillo tour
I've always been mesmerized by medieval villages and architecture because it's hard for me to believe that these places have been around for centuries upon centuries, but are still in such a condition that you can almost imagine being alive during that time.
To walk along the same paths as the kings and the queens, as well as famous explorers and conquistadors, is an experience not many of us will ever forget – climbing to the top of medieval castle and looking down on the village, and watching the people walk around in the Plaza Mayor. And this is exactly what I have taken from my day in Trujillo.
After a lovely and memorable morning with Wine Bus tasting some of Spain's most luxurious wines and feasting at a typical restaurant of Extremadura, we were anxious to start our tour of the city.
For many of us, it was our first time in Trujillo, but most of us had heard about its fascinating and rich history – once a fortress of the Moors, only to be reclaimed by the Christian kings, and later gave birth to Francisco Pizarro, the Spanish conquistador who conquered the Incan Empire.
Although many centuries have passed since these historical times and events, the city remains seemingly untouched by the 21st century.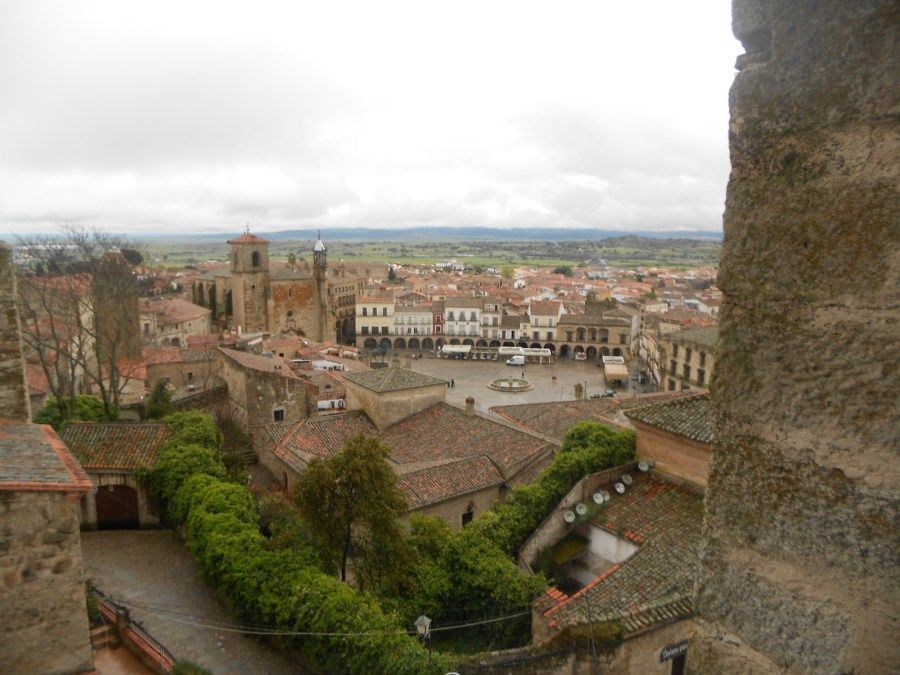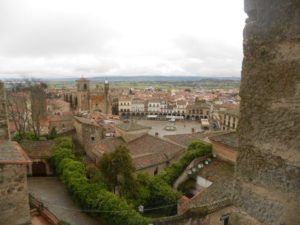 We started our tour with the oldest church in Trujillo, La Iglesia de Santiago, which was founded in the 13th century by the Knights of Santiago. After letting the age and the history of the place sink in and, of course, taking a quick climb to the bell tower, we were on our way to the next, equally-known church – La Iglesia de Santa María La Mayor.
This church was also built in the 13th century, but is almost twice the size that of La Iglesia de Santiago, and also holds the tombs of two important families in Trujillo during the 15th and 16th centuries.
After 106 incredibly difficult and possibly dangerous stairs, we reached the top of the bell tower to be greeted with the most incredible, most expansive panoramic views of Trujillo and Cáceres – well worth every calorie burnt during the climb.
From this lookout, you could see the medieval city beneath you and the rolling, green hills until you could see no further – the sheep grazing in their pastures, the recent bloom of wild flowers, and the dull-grey sky (as it had finally stopped raining).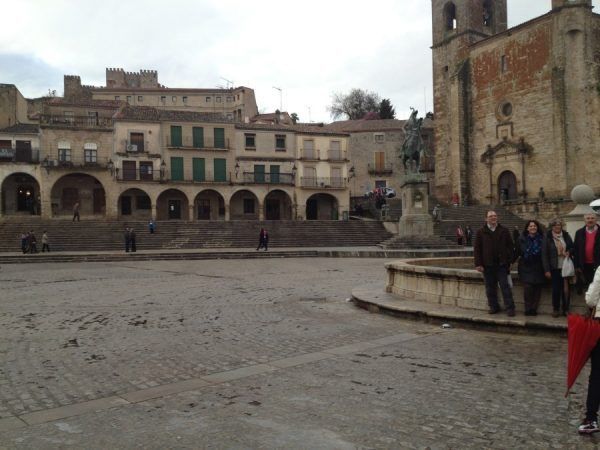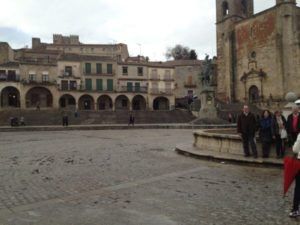 However, we didn't stop there, even though I could've easily spent the rest of the afternoon gazing upon the city. We continued on our tour, and after being greeted by a nun from inside the closest convent, we found ourselves beneath the city in the "aljibe árabe" (Arabic cistern) from the 10th century.
This now seemingly miniscule water supply used to supply water to the entire Islamic community when the Moors had control over this town. Then, after a quick walk-through of the Pizarro house and museum, we found ourselves at the end of the tour – the Alcazaba.
The Alcazaba dates back to the 10th century when it was a Moorish fortress, which was later converted into a castle when the Christian kings regained power over the land of Trujillo, and now remains as a token from the past. Although now it's not much more than stone walls, each one of us became completely immersed wandering around the top of the walls, taking in the views.
Before we knew it, we were already 10 minutes late to the bus, and that's when we heard it – a triumphant melody coming from the town below.  As we came down the hill, we saw that a marching band, completely suited and in formation, was marching around the Plaza Mayor for, what it seemed like, a dress rehearsal for Semana Santa.
Of course things like this don't happen every day, so despite our rush to make it back to the bus, all we could do was stand there, listen, and enjoy – the triumphant beat matching our contentment of an afternoon well spent in Trujillo.
This experience is something I will not forget easily – the people (Ignacio, along with all of the others who accompanied the trip, as well as the locals), the food, the places, and of course, the wine. Never have I been able to do so much, and have such an enjoyable time, with people I had only met a few hours prior. I'm looking forward to my next adventure with Winebus.
Written by Sarah Ernst