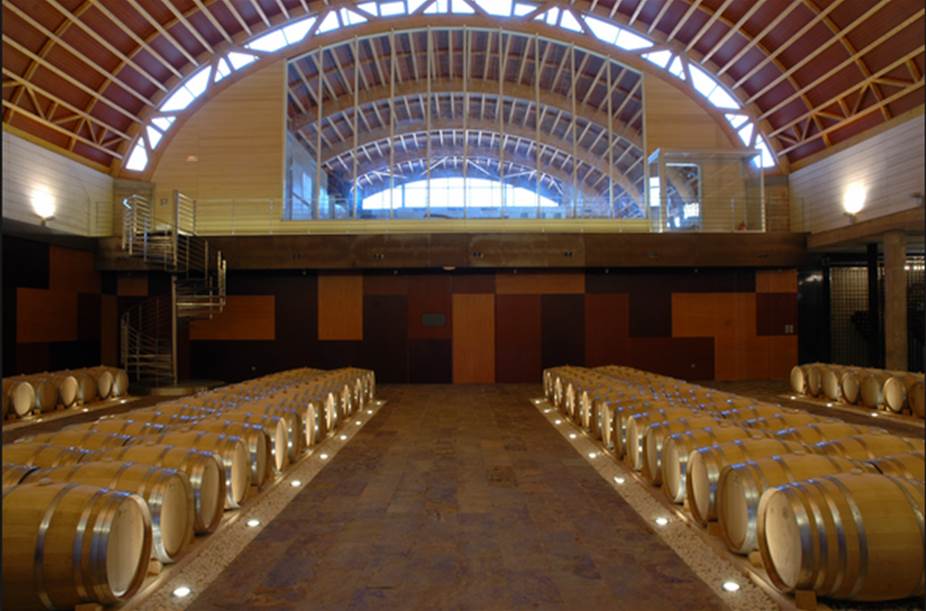 On Saturday April 18 we are going to Bodega Pago del Vicario in Ciudad Real.
Since a long time agowe were lookin to visit this winery with the Winebus. And the moment has come.
This winery is a few miles from Ciudad Real. It is a winery that is remarkable for many reasons, among them to have very original and outstanding facilities and spectacular wines.
That is what they say about themselves.
This is a project that was born on the year 2000.
Its design, (it looks a telescope). It combines modernity and tradition. It integrates perfectly with the orography  and the colour of the land. The sequence of decreasing arcs symbolize the different stages of transformation of the process, from the vineyard, to the container, the barrel, the bottle and finally to the glass.
In the inside you can see last generation facilities, and barrels of French, American and Caucasic oak.
The vineyards are located 600 metres high, on the banks of the Guadiana River. There are 130 hectares of Tempranillo, Grenache, Graciano, Merlot, Syrah, Cabernet Sauvignon and Petit Verdot, Sauvignon Blanc and Chardonnay.
Its proximity to the river, provides an exceptional microclimate, with mild temperatures and with a great contrast between day and night. That helps the synthesis of flavors during the maturation of the grapes.
The soils are very heterogeneous. From sandy and lime, to areas where the quartzites, alterning with shales predominate. They are divided in 29 parcels that they work individually.
They use the most vanguardist techiques of world viticulture such as remote sensing and dendrometry.
They have a wide variety of wines. We will taste 3 of their wines.
From there we will go to Ciudad Real to have tapas and wines on the most emblematic places of the center of the city.
We will make then a guided visit of the city.
On the way back we will stop in Consuegra to contemplate with a glass of wine in hand the wonderful landscape that you can see from the castle and the windmills of the XVI th century. We consider that all is much nicer with a glass of wine in hand.
Program of the day:
9.15 h Departure from Madrid (Hotel Claridge Cafeteria, Plaza del Conde de Casal)
12h Visit Bodegas Pago del Vicario (Ciudad Real). Tasting of three wines.
14.15 h Lunch of tapas and wines in Ciudad Real. (20 euros closed price, optional) (not included in the tour price).
16 h Guided tour in Ciudad Real.
17.30 h End of tour. Departure to Consuegra.
18.30 Toast to the sun in the windmills of Consuegra.
19 h Departure to Madrid.
20.30 Arrival in Madrid (Hotel Claridge Cafeteria, Plaza del Conde de Casal).
20.54 h Sunset.