Visiting Roman monuments like a beautiful picture of Segovia and it's Roman Aqueduct
Ribera del Duero is not only wine.
This picture is on the Centre of Interpretation of The Aqueduct of Segovia. This is a picture that is so impressive that it is worth to go to the Centre of Interpretation of the  Aqueduct just for this picture, but there is much more. They explain to you there what the Romans did in Spain and more concretely on the Aqueduct.
Because the most amazing is not the Aqueduct but the purpose of the Aqueduct and the works done for bringing the water to Segovia from 10 miles away 2000 years ago. Do not miss this jewel. Monty Phyton in 'Life of Brian' ask… what have the Romans made for us? They made a lot my friend.
But you can go up and down Spain and you will find so many things made by the Romans. And in our tours, the Romans appear and disappear and you know that with those appearances and disappearances the true importance of the Romans.
Because of that…
You would not forget when you are coming to this country to ask yourself what have the Romans made for us.
M
any remains of the presence of Rome in Spain compared to the first centuries of the Middle Ages (7th to 10th centuries)
This is a very funny thing. In Spain, when you move around you see many reminiscences on the Romans but you do not find too many things from the 7th century to the 10th.
In one of our tours to Toledo, it happened something curious. We were visiting the town with a local guide. And he, after having talked about the history of centuries walking around the town, we passed by the door of a modern shop in which they sold clothes for women.
He told us that the owners of this shop decided to make a garage underneath their shop. They began to dig to accomplish such a task. To his surprise, they found Roman baths from 2000 years ago is quite a good condition.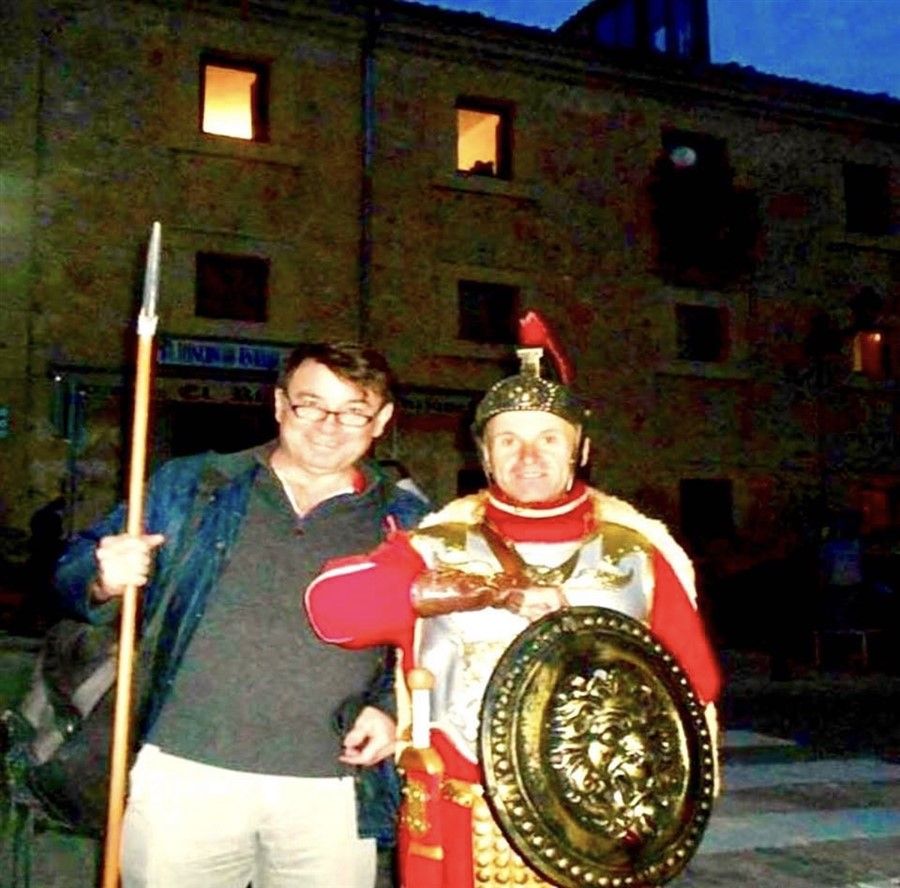 This stopped the work and did not allow them to go on with the garage. They were concerned about that. In the end, they decided to put on the floor of the shop a very thick glass so you can be in a very modern shop and at the same time look at the beautiful Roman baths you have underneath.
For us it was a big and amazing surprise how a modern shop could be integrated with such old Roman baths this is a perfect way of how Roman culture can be integrated into a town like Toledo.
Another place that astonishes me a lot is the Roman ruin of Segobriga. They are in La Mancha, not far from Finca La Estacada and you can visit it while you go to the castle of Belmonte or bodegas Finca Antigua.
There you can see some ruins in very good shape that tell you a lot about Roman culture. These ruins are not inhabited by anybody. And I asked myself why and now I have the answer.
People living in that place in the year 711 flew away with the imminent arrival from the Arabs when they invaded Spain from the south. That area was reconquered by the Christians 200 years later and nobody was interested in living there. This is the reason by which there is not a village there in 2019.
If you go from Finca la Estacada to the Castle of Belmonte you can not miss it. It is half of the way.
And the important is that if you do that way you will visit a winery ideal for people in Madrid who want to visit a winery closed to Madrid with a nice hotel and spa inside with a beautiful view from the high of the vineyards.
Other Roman monuments in the world
Written by
Ignacio Segovia
CEO of Winebus.es
Other posts related to the Roman remains in Spain:
The Best Roman Ruins to Visit in Spain 
Destinations to relive the roman empire in Spain
Other posts related
An old winery or a modern winery.
In a winery of La Mancha during the Harvest Night.
A million reasons for visiting a winery   
Were we in a horror movie in an isolated old castle of Ribera del Duero?
Visiting castles in Spain with a glass of wine
Book in our tour: