Dusk is the best moment to visit La Mancha windmills, the land of don Quixote.
How the windmills wine tour works.
Come with us to visit the windmills of la Mancha with a glass of wine in hand.
Most of our visitors know about Don Quixote and have quite a nice attitude towards Don Quixote but they do not have very specific expectations.
And our goal is that we cover by far those expectations.
What we offer is a wine tour so we try that our approach to the wine has to come not too late because we believe that #everythingisbetterwithaglassofwine in hand. And we visit other things that our visitors might not expect which is 1 castle or even 2.
It is our time to say to them that the region we are visiting is called Castilla (castle) La Mancha.
When you come you realize by yourself that you are in the biggest surface of the world in vineyards. Most of them planted in bush with no irrigation system.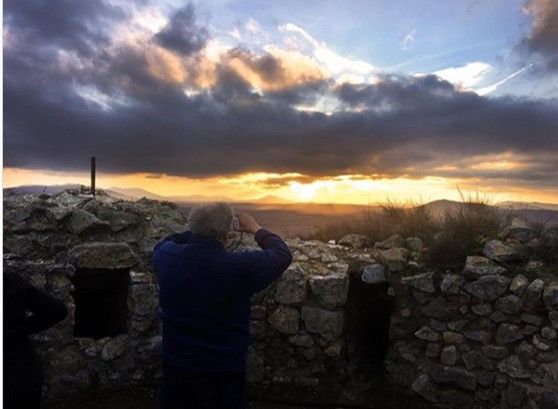 Most of the wine that is being produced in this region is being made for bulk production of wine, but what we do is visiting those wineries that in many cases they are already in other regions of Spain and come to this region having the knowledge that they can make quality wines from grapes of this region.
For me, those winemakers are like Don Quixote fighting against the giants. They do just the same knowing that they will have to do an extra effort in order to show the market that their wines are as good or even better than other wines in other regions of the world.
But the best experience on this tour is of course when visiting the windmills.
They are upon different hills of La Mancha in order to have enough wind to push its huge pales.
It does not matter at what time you arrive to see them but the important thing is the magnificent scenery you have when you approach, what you can see from them that is in a very prominent hill and to get into one of them and understand how they work and how life was in the XVIth century on this region.
Windmill sunset
But what you will never forget is the wine you have in the windmill sunset.
This is what you can see in this picture. We are on the windmills of Consuegra
I am sure these people that appear in the picture will never forget the experience. Because it happens to me that I can not forget it.
What goes through people's heads with a beautiful sunset in an idyllic place with a glass of wine in hand? I never ask my visitors. I only know that it is a very special moment in which if one speaks, one speaks from the heart.
I have collected the 10 best sentences for my taste that collect the mood that one has in such a special moment. These precious phrases were said without having a glass of wine in hand. I think that gives you an additional point. There go the sentences,
Sunset quotes
1 Life does not come with instructions on how to live, but it does come with trees, sunsets, smiles, and laughter, so enjoy your day. 
2 It is almost impossible to watch a sunset and not dream. 
3 When your world moves too fast and you lose yourself in the chaos, introduce yourself to each color of the sunset. 
4 There's a sunrise and a sunset every single day, and they're absolutely free. Don't miss so many of them. 
5 Never waste any amount of time doing anything important when there is a sunset outside that you should be sitting under. 
6 Every moment of life is unique – a kiss, a sunset, a dance, a joke. None will ever recur in quite the same way. Each happens only once in the history of the universe. 
7 A sunset is the sun's fiery kiss to the night. 
8 When the sun has set, no candle can replace it. 
9 A sunrise or sunset can be ablaze with brilliance and arouse all the passion, all the yearning, in the soul of the beholder. 
10 When I admire the wonders of a sunset or the beauty of the moon, my soul expands in the worship of the creator. 
Are you a wine lover? A windmill lover? A sunset lover? Come with us.
Cheers my friends!
Written by
Ignacio Segovia
Ceo of winebus.es
Other post to read:
Don Quijote & Sancho Panza came with us.
Watching birds with a glass of wine in our hand.
Folding sails in the windmills of Don Quijote.
Dulcinea looking at Don Quixote in the windmills.
Come with us to visit the windmills of la Mancha with a glass of wine in hand.